A Chinese painting exhibition themed around the Pu'er Tea Horse Ancient Road opened in Beijing on Nov 11, according to Pu'er Daily.
In attendance was Dan Zeng, vice president of the China Federation of Literary and Art Circles (CFLAC). In a speech delivered at the event, Dan said that art comes from people's inner-self and serves the people in return.
The Party chief of Pu'er city, Wie Xing, also attended the opening ceremony. He pointed out that Pu'er is the source of the ancient tea horse road. The city is also rich in tea culture and ethnic culture, providing an ideal environment for artists to draw inspiration from, according to Wei.
The ancient tea horse road is an ancient trade route that connected Pu'er with the world. It is also known as "The Road of Friendship".
The exhibition will be open to the public at the National Art Museum of China in Beijing until Nov 19.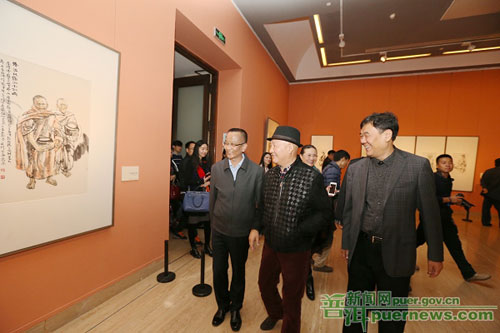 Wei Xing (Left), Party chief of Pu'er city, views the Tea Horse Ancient Road Chinese painting exhibition at the National Art Museum of China in Beijing. [Photo/puernews.com.cn]
Edited by Jacob Hooson