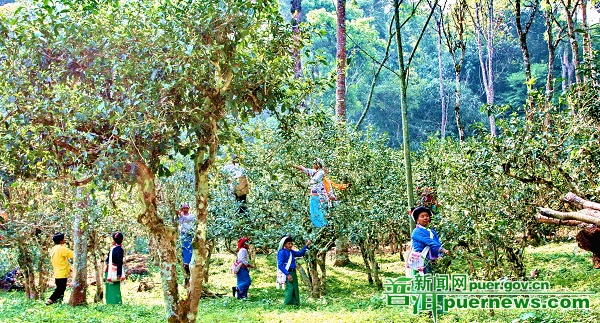 Farmers of the Blang ethnic group harvest tea on Jingmai Mountain. [Photo provided by Pu'er Daily]
Jingmai Mountain is located in Huimin township of Lancang county in Pu'er city, a region of traditional villages for many ethnic groups such as the Blang, the Dai and the Hani. The mountain rises between 1,100 to 1,570 meters above sea level, with average temperature of 18 C and annual precipitation of 1,400 to 1,450 mm. It is never too hot in summer or too cold in winter, which helps increase the useful ingredients in the tea.
With well-preserved evergreen broad-leaved forests on the mountain and red sand soil that contains multiple trace elements and allows water and air to go through, the area is considered a "golden zone" to grow high-quality tea.
The tea-growing area on the mountain covers nearly 2,000 hectares, including more than 1,000 hectares of ancient tea gardens, the largest and best-preserved cultivated ancient tea garden.
The local tea features a clear and light olive color when made in the cup and long-lasting sweet flavor. Jingmai tea has become a local specialty welcomed by both locals and guests, including foreigners.
The mountain is destined to be a holy ground for tea and tea growers since the first tea bush was planted there more than 1,000 years ago.