The Va people number around 351,947 (as of 1999) and live mainly in compact communities in the Ximeng, Cangyuan, Menglian counties and surrounding areas in southwestern Yunnan Province.
The Va people have a unique spoken language, which belongs to the Austroasiatic Phylum. They previously had no written language, but an alphabetic script was created for the Va people in 1957. In ancient times, Va recorded their life through object or wooden-carving or counting or message transferring instead of any written word. Such as the sugarcane, banana and salt mean friendship, chili means angry and cock feather means urgent.
The Va people call themselves "Va", "A Va", "Ba Rao Ke", etc. According to historical records, the Va people are the descendants of the Baipu people who lived before the Qin period (221-26 BC). During the Qing Dynasty (1644-1911) they were called "Ha Wa", "Ka Wa", etc and with the founding of the People's Republic of China (PRC), they were formally named the Va ethnic minority.
The Va people are mainly engaged in agriculture. They enjoy drinking bitter tea and chewing on betel nuts and make their own wine.
In the past, the Va people worshipped nature, believing that all mountains, rivers and other natural phenomena had their deities. Now, some Va people have become followers of Christianity and Buddhism.
The New Water Festival, a folk festival, is celebrated during the new year of the lunar calendar. For welcoming the festival, villagers come together to repair and clean the well. People would rather sit until the daybreak instead of sleeping on the festival day, in order to fetch the first pail of water of this year in the well. Who got the No. one will be visited and be asked for the lucky water.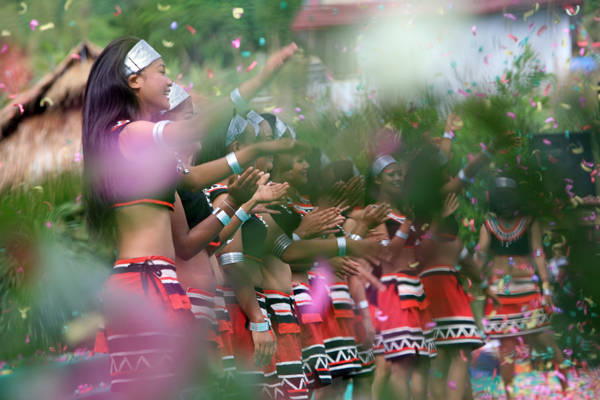 Va girls sing and dance. [Photo by Li Huahai]