Lancang county, as of the major tea producing areas in Pu'er, Lancang county became a hive of activity recently as the March harvest season arrived, according to Pu'er Daily.
The tea industry has grown into the pillar industry of Lancang county. Since the start of March, villages in Lancang county started to enter the harvest season for pu'er tea. After a winter of accumulation, the tea leaves have turned green and shiny.
Lancang, renowned for its climates and environments, provides good growing conditions for pu'er tea.
Pu'er tea is a variety of dark tea produced in southwest China's Yunnan province. In 2014, world leaders tasted pu'er tea produced in Yunnan at the state banquet of the APEC (Asia-Pacific Economic Cooperation) meeting.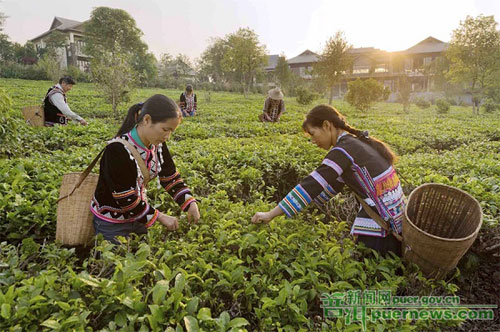 Pu'er tea in Lancang country comes into the harvest season [Photo/puernews.com]
Edited by Jacob Hooson