Pu'er's Jinggu county hosted a flower-picking and water-splashing festival, a traditional festival for the Dai and Yi people, from April 14 to 28, to promote harmony among different nationalities.
The festival, organized by the local government and sponsored by enterprises in the county, attracted many tourists and was part of a series of activities on traditional cultural heritage.
Yongping, a town in Pu'er with many Dai people, has a long history and unique folk customs. It has 36 Buddhist temples. This year it held various activities with special ethnic, local and modern features, including a Buddhist chant competition and praying activities in Yongping's 12 Buddhist relics.
The Jinggu County Buddhist Association held animal release activities and placed a lotus Buddha lamp on the water in the middle of Weiyuanjiang Cultural Ecological Corridor. The activities attracted many tourists from home and abroad. A British visitor said: "The folk culture is very rich, and there are so many specialty restaurants. It's awesome."
The folk activities guided by the government will help to build a unique tourism brand and develop traditions and cultures in the nation, said Wang Limei, deputy township head of Yongping.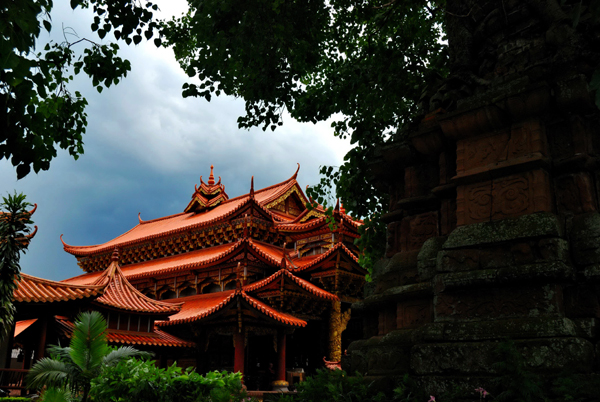 Mengwo Buddha Temple [Photo by Luo Rui]