Carving sand buddhist pagodas
April 15 is the last day of 1374 in the Dai calendar, also known as "Empty Day". On that day, the most important event is the sand carving ceremony. In the early morning, locals assemble at Mengwo Buddha Temple to celebrate the coming New Year and carve sand Buddhist pagodas in memory of Shakyamuni Buddha. After the completion of the ceremony, locals bring some sand back and scatter it in their home farms or onto roofs. This ritual is a way to seek blessings from Buddha.
Splashing water
April 16 is the climax of the festival. At noon, locals flock to the streets and assemble at Peacock Square with pots, pans, bottles or whatever. They uninhibitedly splash, spray and douse each other with water. Water is regarded by the Dai as a symbol, firstly, of religious purity, but also of goodwill among people. Therefore, splashing one another with water during the Water Splashing Festival is an expression wishing good luck and prosperity to that person.
Floating river lanterns
On the night of April 16, locals and tourists float river lanterns on the Weiyuan River. The floating river lanterns travel for miles and resemble stars floating on the river. The lights on the water and riverside decorate the Weiyuan River like a golden belt. Floating river lanterns is an old tradition in China. It's believed that the farther the river lanterns float, the easier your wish will come true. The practice is also thought to drive bad luck away and bring good luck.
The legend of the Water Splashing Festival
Legend has it that in ancient times, there was a very wicked demon who once controlled the world's climates. He was very arrogant and abused his vast magic powers so people suffered. The demon had seven beautiful and kind daughters. To rid people of the scourge, they cut off their father's head when he was sleeping. Unfortunately, wherever his severed head tumbled on the floor, there were raging flames. So the girls took turns carrying the demon's head in their arms. When they switched turns, other girls would splash water on the last girl to clean the bloodstains from her body. Ever since, the Dai people have named the day when the demon's head was severed as the Water Splashing Festival in memory of the girls' efforts.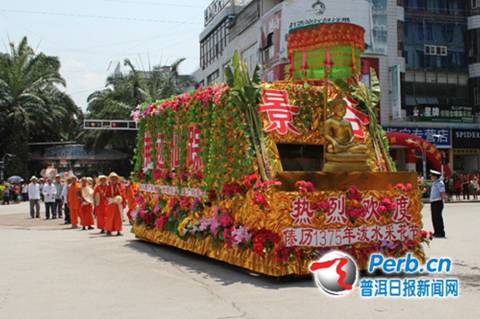 Flower-covered parade float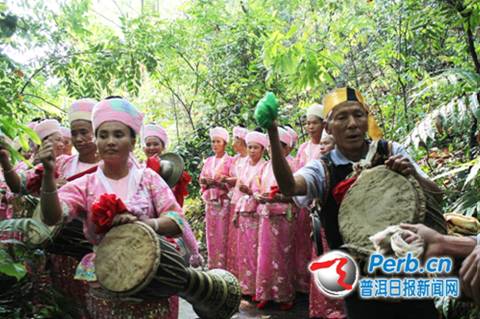 Locals collect holy water and pick flowers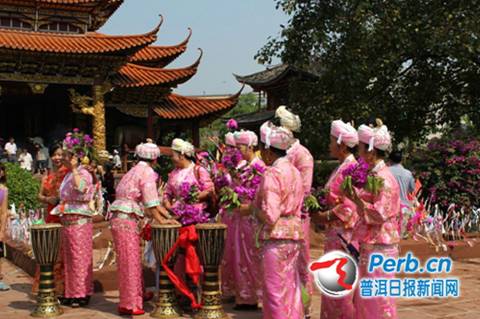 Locals returning with flowers