Kunming tech competition encourages innovation among youth
By Yang Fan ( chinadaily.com.cn )
2016-03-15
Students in Kunming, Yunnan province got a chance to show off their innovative abilities at the 13th Youth Technology Innovation Competition on March 9.
This year's event received approximately 6,000 entries, dwarfing the amount received last year by 70 percent. The entries included papers, innovative items, paintings and demonstrations of biology, chemistry, computer science and other subjects.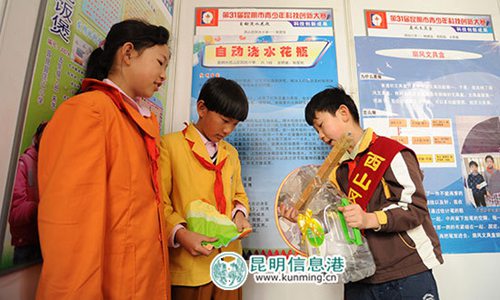 A competitor of the 13th Youth Technology Competition demonstrates his automatic watering machine in Kunming on March 9. [Photo/kunming.cn]
Edited by Jacob Hooson
Copyright © 2015 China Daily . All Rights Reserved Sponsored by Kunming Municipal Government . Presented by China Daily .