The 11th Confucius Institute Conference to open in Kunming
By Ge Jieru ( chinadaily.com.cn )
Updated: 2016-12-08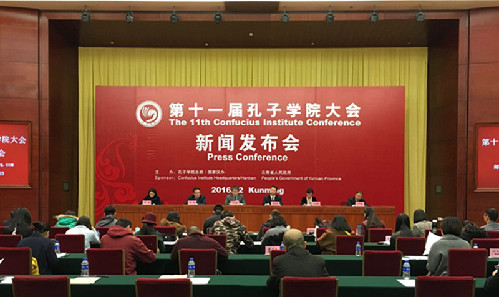 Officials hold a press conference for the 11th Confucius Institute Conference set to take place in Kunming, capital of Southwest China's Yunnan province from Dec 10-11. [Photo/xinhuanet.com]
Organizers of the 11th Confucius Institute Conference held a press conference in Kunming on December 7. This year's conference will be held from Dec 10-11 and focus on themes of innovation, cooperation, inclusion and sharing.
University chancellors, representatives from Confucius Institutes and ambassadors from 140 countries will join the event. A total of 2,400 people are expected to join the conference, according to the conference's sponsor.
Seven forums will be held during the conference to discuss the experiences and challenges faced by Confucius Institutes.
It's the first time for Southwest China's Yunnan province to host the event.
Yunnan has focused on developing its education in recent years. In 2015, the province received 22,635 foreign students, while twelve Confucius Institutes have been set up in there. Moreover, 43 universities in Yunnan have set 62 language departments with 81,900 students enrolled.
As of now, a total of more than 2 million students have joined the Confucius Institutes in different countries around the world. Known as the "Davos of the education sector", the conference has run 10 years.
Edited by Jacob Hooson