Yunnan tourists pick cherries
By Wang Yifei ( chinadaily.com.cn )
Updated: 2016-04-20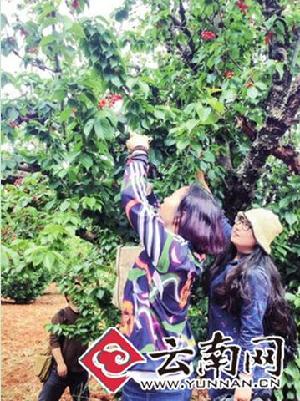 People pick cherries at Fumin county, Yunnan province. [Photo from yunnan.cn]
The cherry picking season starts now and will last until May 1 in Yunnan's Fumin county, yunnan.cn reported.
Chijiu boasts the biggest cherry picking garden in Kunming city, Yunnan province. It has over 4,000 mu (2,666,666 square meters) of cherry trees, more than half of which have borne fruit.
Cherries in Fumin County are mainly planted in Yuping, Zumili, Puqiao and Pingdi villages. The yield this year is expected to reach 300 tons. The villages have allocated some places as temporary parking lots. Visitors can have a taste of local vegetables at the same time.
How to get there
If you drive your own car, you can:
A Drive along the second ring road expressway at the Luomian Toll, turn left to Kunlun Road, go straight for another three kilometers, and turn left for nine kilometers to reach Chijiu county.
B Drive through Puji Tunnel in the northwest of Kunming, continue along Kunlu Road for 37 kilometers to reach Fumin county. Drive another six kilometers, turn right, drive another 13 kilometers to reach Chijiu county.
If you take a bus, you can take the bus at the northwest bus station from Kunming to Fumin. After arriving at Fumin Bus Station, you can take a bus from Fumin to Chijiu. The buses depart at 7 am and run every hour. It takes about 40 minutes to Chijiu Town, and each passenger will be charged two yuan.
Prices
The price of picking cherries varies from 50 yuan to 80 yuan per kilogram. Admission fees are also possible depending on the orchard.
Tips
Cherries are rich in Vitamin C. They are widely regarded as the "King of natural Vitamin C" and the "Fruit of Life". Cherries are also regarded as a wonder fruit for ladies since they are believed to enrich blood and thus make people look radiant. However, overeating may cause excessive internal heat according to traditional Chinese medicine.