Peng Ping:A leading expert on embroidered Tangka art
By Ge Jieru ( chinadaily.com.cn )
Updated: 2015-02-12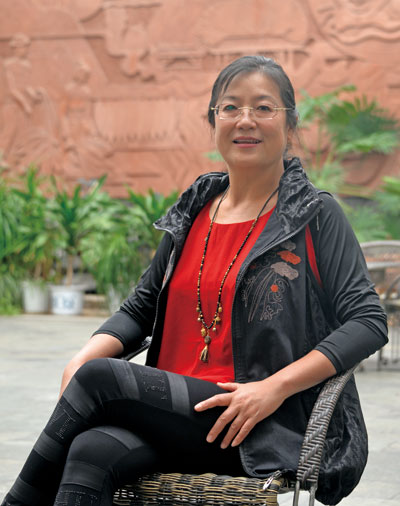 Peng Ping, a Tangka embroidery painting artist from Southwest China's Yunnan province [Photo provided to Chinadaily.com.cn]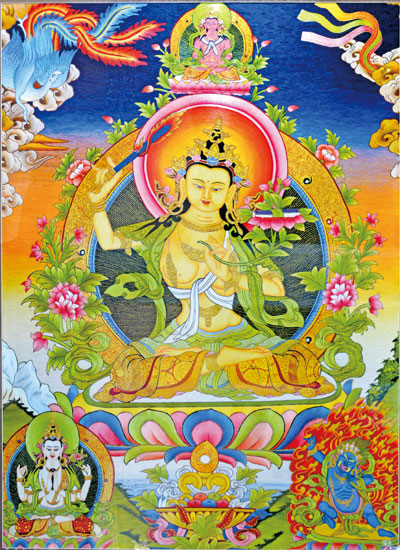 Peng's embroidered Tangka art work [Photo provided to Chinadaily.com.cn]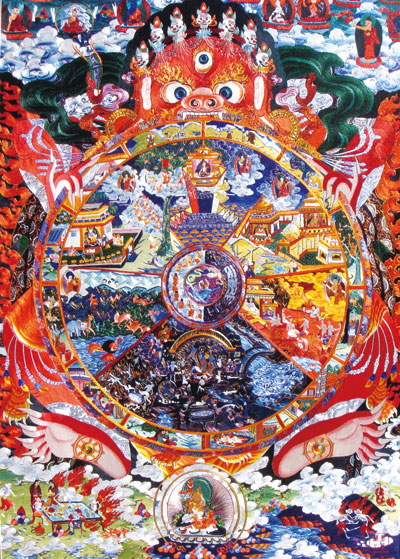 An embroidered Tangka art work named Samsara by Peng Ping [Photo provided to Chinadaily.com.cn]
Peng Ping, a leading national arts and crafts expert, has been awarded the honorary title of National Leading Figure of the Arts and Crafts Profession, according to Yunnan.net.
Peng's embroidered Tangka art work, Samsara, won the Golden Award at the 2013 China Arts and Crafts Fair in Southwest China's Guizhou province.
Tangka is a type of traditional Tibetan painting on cotton or silk. The theme of Tangka paintings covers different areas from religion to culture and history.
In the recent years, auction price of embroidered Tangka paintings sometimes surpasses 10 million dollars and the style has become a new favorite among collectors.
Peng Ping and her husband launched an embroidery school and an embroidery art museum in Lijiang's Yulong county, in Southwest China's Yunnan province. Peng and her husband both have good understanding of the local culture of the Naxi ethnic people and have been deeply influenced by Tibetan culture.
According to Peng, since transportation was not as developed in ancient times, embroidery art works in had strong regional characteristics as a result. In contrast, contemporary embroidery art works are largely influenced by the communication between different places and cultures.
"The absence of regional characteristics has become a big problem for the development of embroidery art works," said Peng.
After their market research, Peng and her husband planned to make embroidery art works that represented Lijiang's Tibetan Buddhism culture. According to Peng, Tibetan painters would take a bath and recite sutras.
"I am touched by the Tangka art, since it's much more than art and craft; it's an art which comes from people's belief and faith," said Tang.
After years' of study and practice, Peng started to blend the embroidered arts with religion and Yunnan's local culture. The Tangka embroidered paintings by Peng has brought people both a visual feast and an enriching cultural experience.
Edited by Jacob Hooson