Tumeng Library is welcomed in Yunnan's Ruili
By Ge Jieru ( chinadaily.com.cn )
Updated: 2015-02-03
Yinjing village in Ruili, of Southwest China's Yunnan province, has opened a new library to cater for local villagers of both Chinese and Vietnamese origins.
The border between China and Vietnam separates Yinjing village into two parts. The village area on the Chinese side is named Yinjing and the Vietnamese side is named Mangxiu. Despite the separation, both sides of Yinjing and Mangxiu share the same local language and culture.
The village's new library has an area of 120-square-meters and has books in various languages, including Chinese, English, Vietnamese and the Dai language, a local dialect spoken in the area. Villages can borrow the books free of charge.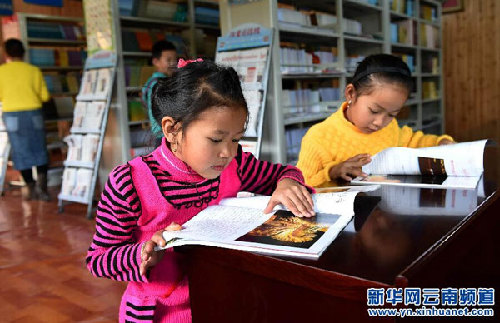 Children from Yinjing village read books in the newly opened Tumeng Library [Photo/Xinhua]
Edited by Jacob Hooson