China's coffee market taking time to brew
( Xinhua )
Updated: 2014-06-12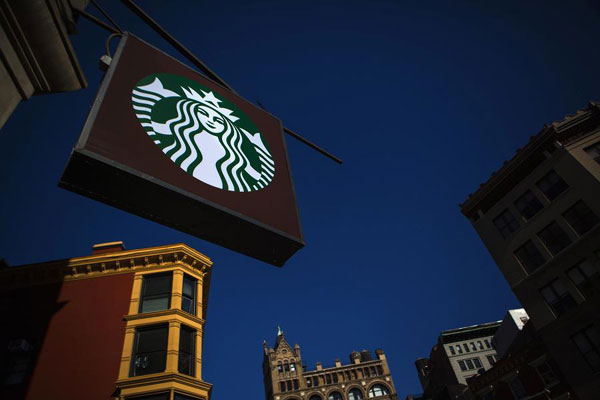 The sign of a Starbucks store is seen in New York January 24, 2014.[Photo/Agencies]
HAIKOU - A Chinese person drinks on average five cups of coffee a year. In a small town of south China's Hainan province, this rises to 200 a year.
The figure, which is comparable to the world's average of 240 cups, has impressed international coffee dealers who are seeking to take a share of the market in China.
"I do not believe China will become the world's largest coffee consumption market in the next decade until I see it for real. But with more middle-income families, the Chinese are drinking more coffee," said David Kiwanuka, a coffee dealer with the Guangzhou office of
Beijing
Chenao Coffee Co, a Sino-
Uganda
joint venture.
Fushan town in Chengmai county of Hainan, where local farmers started growing coffee in the early 1930s, has nurtured a strong coffee culture. Nearly 100 companies from different countries have opened outlets to promote their brands in the subtropical town.
"I was impressed at how the Chinese love drinking coffee. They have started to show great interest in coffee culture, which has made me see the huge market potential in this country," said Melaku Legesse, consul general at Consulate General of the Federal Democratic Republic of Ethiopia in Guangzhou.
Data from China Coffee Association Beijing (CCAB) showed that coffee consumption growth in the country is increasing at an annual rate of 15 percent, which is about seven times more than the average world growth rate.
According to the association, the figure may continue to expand at a pace of 15 to 20 percent annually, making China the most attractive coffee consumption market by 2020.