High bid wows at Yunnan Cultural Industries Expo auction
( chinadaily.com.cn )
Updated: 2013-08-16
An unfinished statue of Guanyin (a Bodhisattva with 1,000 hands and 1,000 eyes in Buddhism) by famous Taiwan sculptor Hong Fushou was purchased at 230 million yuan ($37 million) at a jade carving auction during the 2013 Yunnan Cultural Industries Expo, becoming the highest bid of the auction.
As a highlight of the expo, the auction, held on Aug 13, displayed works by noted jade carving masters from Yunnan and outside. Besides the Guanyin statue, the starting prices of all lots were over 100,000 yuan. Among them, works by Hong Fushou were over 1 million yuan.
Ms.Ding successfully won the bid of three lots, totaling 1.81 million yuan. She said that she is a fan of sculptor Ge Donghui and has followed him for more than 10 years. Mr.An from Macao owns an investment company and bought the Guanyin statue. "It is 10 million lower than the expected price. I've paid attention to this work for many years. The material is very good, called 'emperor of the emerald' in the profession. It has huge collection potential," he said.
Hong, the sculptor of the work, also indicated that the emerald is rare. He had to make it into a perfect piece.
The auction turnover rate was nearly 90 percent, demonstrating the huge room for appreciation of high-end jade carvings and a strong demand.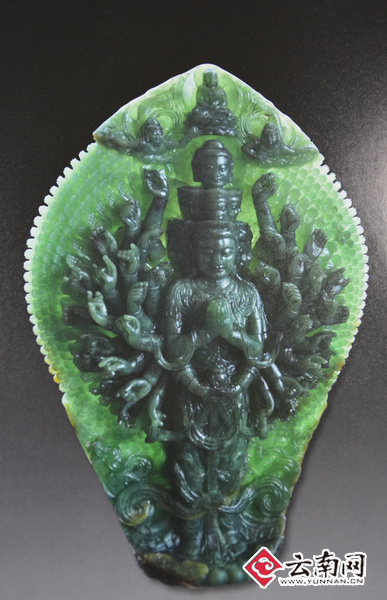 High bid wows at Yunnan Cultural Industries Expo auction