Hani terraces named UNESCO world heritage
( CNTV )
Updated: 2013-06-26
The UNESCO World Heritage Committee has approved the addition of China's Honghe Hani Rice Terraces to the prestigious list of World Heritage sites. This brings China's total number of World Heritage sites to 45.
A spectacular farming landscape showcasing China's rice growing culture. The Hani Terraced Fields were created by the Hani and other ethnic groups in Yuanyang County of Honghe Prefecture, in southwest China's Yunnan Province. Stretching from the river valleys to mountains, these small, oddly-shaped fields link together to form a cascade of rice paddies along the steep slopes.
The terraces began to formally apply for World Heritage status in 2000. And the locals are thrilled by the success.
Over the past 10 years, the local government and people have made a concerted effort to restore the region's environment and culture. But attracting younger generations to stay and carry on their farming culture into the modern age remains a major challenge.
It has taken over 10 years of hard work for the Hani Terraced Fields to reach this point. And the locals hope this success will help them preserve the terraces for many generations to come.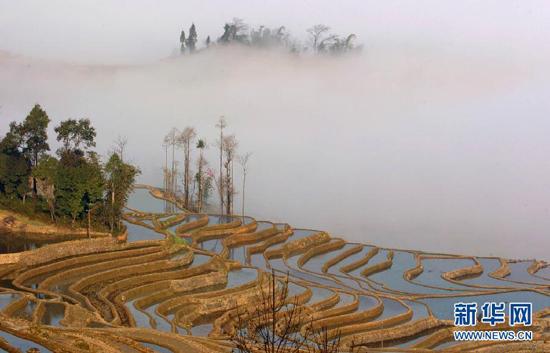 The UNESCO's World Heritage Committee inscribed China's cultural landscape of Honghe Hani Rice Terraces onto the prestigious World Heritage List.