Toutunhe to build 11.4 km of hiking trails
By Sun Hui ( chinadaily.com.cn )
Updated: 2017-09-12
The Urumqi Economic and technological Development Zone (Toutunhe District) plans to invest 20 million yuan ($3.1 million) to build 11.4 kilometers of plastic trails in the zone this year, providing local residents with places to exercise.
Liu Peixiang, a local official, said that the newly designed trails will be situated in Big Green Valley, Tiexi Park and Batie Park, with all of the trail construction to be completed by the end of 2018. Liu added that pavilions and fitness equipment will also be added to Tiexi Park.
"I love jogging very much and there used to be no pathways for us to jog on. It will be so convenient for me to exercise when the new trails are completed," said Hou Sangni, a resident living in the zone.
Toutunhe has built 26.6 kilometers of hiking trails since 2015, and the zone continues to improve local infrastructures to provide locals with a better environment for exercise and leisure.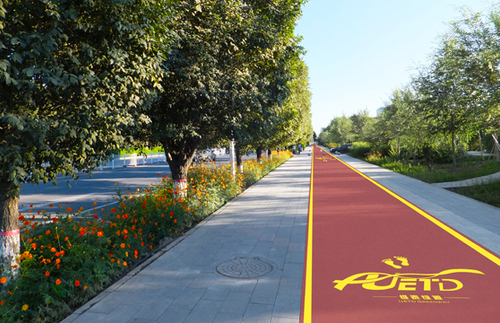 The partially completed hiking trail in Tiexi Park, Toutunhe district. [Photo/uetd.gov.cn]
Edited by Zachary Dye