Bearing witness to a changing Xinjiang
By Xu Wei ( chinadaily.com.cn )
Updated: 2015-07-08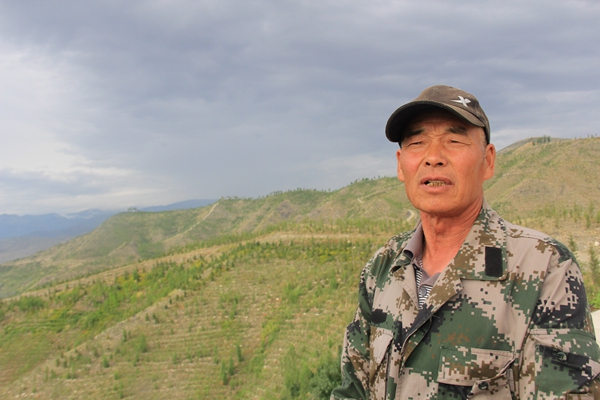 Xu Xiuqi, 63, is a retired forester who was reemployed to help plant trees in the barren mountains in Altay, Xinjiang Uygur autonomous region.[Photo by Xu Wei /China Daily]
Xu Xiuqi, 63, is a retired forester who was reemployed to help plant trees in the barren mountains in Altay, Xinjiang Uygur autonomous region.
A native of Ganyu county, Jiangsu province, Xu came to Altay in 1971 after his uncle helped him find a job at the forestry and landscape authority in the city.
"We never dreamed the barren mountains could be reforested one day as it was so difficult to plant a tree and make it survive in the dry weather conditions," he said.
Xu's authority started to reforest the barren mountains surrounding the city in the late 1980s, but the project was halted after the change of government leadership.
The forestation project resumed after 2009 when new government officials took office, and Xu was reemployed to supervise the project.
Now his job is to ride a motorcycle around the mountains to supervise the project, and to make sure that each sapling planted will survive the harsh natural conditions.
"My job is to find the problems, whether the trees have been properly cared for or not. If I can solve the problem, I will. If I cannot, I will report them to the authorities," he said.
The city has so far managed to plant 70,000 trees on the barren mountains in 3,330 hectares of barren mountains around the city.
Xu said it was never difficult to find passion for his job.
"We need to create wealth for our future generations. I will be immensely proud if my grandson pointed to the mountain and told people that it was reforested by his grandfather," he said.
"I will do it without pay, as long as my body allows me to do it," he said.