Foreign journalists explore green development of Tai'an
(chinadaily.com.cn) Updated: 2021-09-29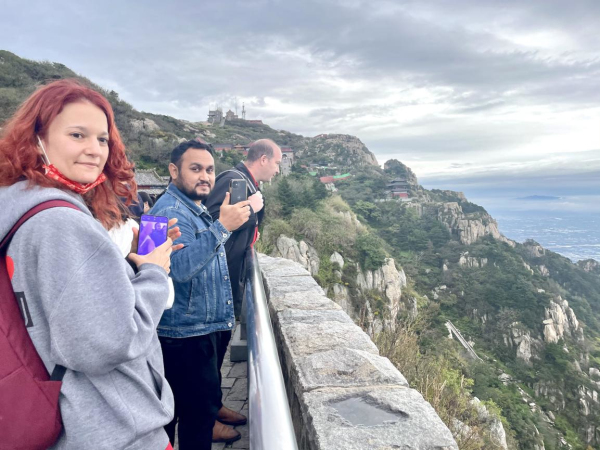 Foreign journalists enjoy the scenery on Mount Tai during their trip to Tai'an on Sept 28. [Photo/chinadaily.com.cn]
A group of foreign journalists from countries including Italy, South Korea, Brazil, Pakistan, and Portugal embarked on a trip to Tai'an, Shandong province on Sept 28.
During the trip, the group visited the city's iconic scenic spot Mount Tai, as well as learnt about the city's efforts in bolstering ecological environmental protection and green development.
Mount Tai is the most famous sacred mountain in China and has exceptional historic, cultural, aesthetic, as well as scientific value. The appeal of Mount Tai lies in both its natural beauty and rich array of cultural relics. It was listed as a UNESCO World Cultural and Natural Heritage site in 1987.
The name of the city Tai'an is derived from Mount Tai, and the old idiom of "the peace of Mount Tai ensures the peace of the whole country," which implies that "the country is prosperous and the people live in peace."
"Here I can breathe fresh air and see amazing scenery," said Raquel Blanco Cerda from Spain, adding that it was quite a good feeling to climb Mount Tai.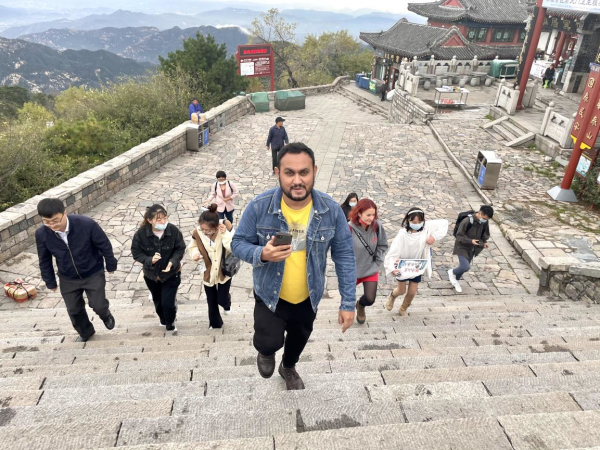 Foreign journalists climb to the top of Mount Tai on Sept 28. [Photo/chinadaily.com.cn]
Mount Tai has become a natural haven for biodiversity. The forest coverage rate of Mount Tai has reached 94.8 percent, local workers said. The region currently is home to 1,614 species of plants, 25 species of mammals, 12 species of reptiles, 6 species of amphibians, 347 species of birds, and 22 species of fish.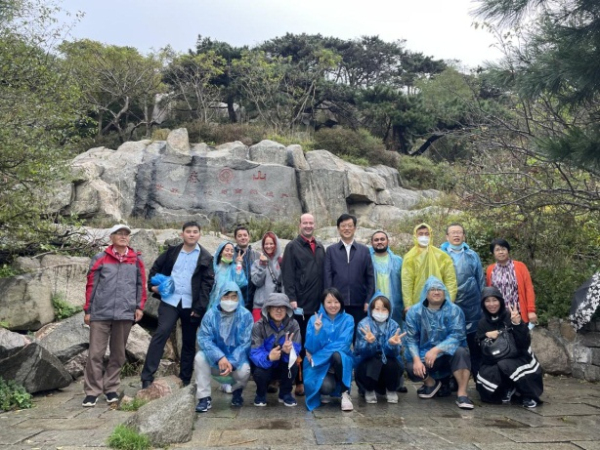 A group photo of the trip in Tai'an on Sept 28 [Photo/chinadaily.com.cn]
In recent years, Tai'an has attached great importance to the city's green development and achieved fruitful results in its efforts to improve its ecological environment.
The ambient air quality composite index has been consistently improving year by year. By the end of 2020, 64.2 percent of the days were rated as having good or excellent air quality, up 17.4 percent compared to the end of the 12th Five-Year Plan (2011-15) period.
Tai'an has also been designated as a National Water Ecological Civilization City. It has also been rated as a 2020 China's Most Ecologically Competitive City and was named one of China's top 10 beautiful cities.