Projects worth 86.85b yuan inked at Tai'an investment fair
(chinadaily.com.cn) Updated: 2021-09-07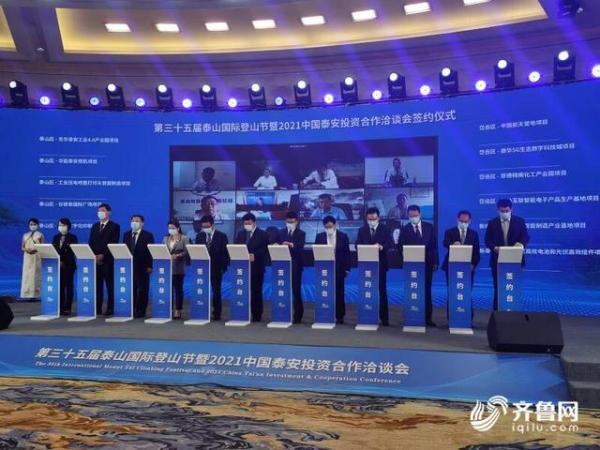 A total of 59 projects worth 86.85 billion yuan ($13.47 billion) are signed at 2021 Tai'an Fair for Investment and Cooperation on Sept 5. [Photo/iqilu.com]
The 35th International Mount Tai Climbing Festival and 2021 Tai'an Fair for Investment and Cooperation were held in Tai'an Shandong province on Sept 5.
The events have become important platforms for Tai'an to promote trade and cultural exchange with enterprises at home and abroad.
Foreign expats from Japan, South Korea, Russia, and Germany send greeting messages at the Tai'an Fair for Investment and Cooperation.
A total of 59 projects worth 86.85 billion yuan ($13.47 billion) were signed online at the conference, covering the fields of next-generation information technology, new materials, high-end equipment manufacturing, and high-end chemicals.
Tai'an enjoys favorable business environment, strong industrial foundation, and complete industrial systems, said Yang Hongtao, Party secretary of Tai'an at the fair.
He also expressed hope for seek cooperation and exchanges on a larger scale, in wider fields and at a higher level.