Mount Tai documentary aired on CCTV-4
(chinadaily.com.cn)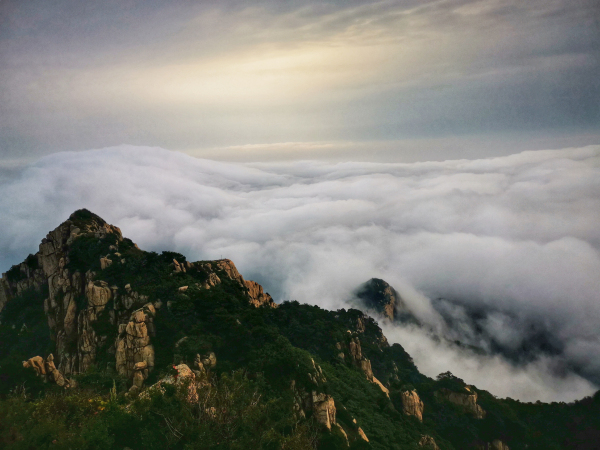 Mount Tai in Shandong province [Photo/VCG]
A documentary highlighting Mount Tai, a UNESCO World Natural and Cultural Heritage site in East China's Shandong province, was aired recently on CCTV-4, China Central Television's international channel for global audiences.
The documentary, which was jointly produced by the Shandong Provincial Publicity Department, as well as Shandong Radio and Television Station, is divided into two 30-minute episodes.
With a theme of "stone", the first part of the documentary tells historical stories about the site, delving into topics like the geological formation of Mount Tai, the Fengshan Sacrifice rites at Mount Tai, the significance of Buddhism and Taoism culture to the mountain, Mount Tai stone inscriptions, as well as the spirit of Mount Tai porters.
The Fengshan Sacrifice rites, also called the emperors' sacrificial ceremonies, are a kind of religious ritual that was conducted by China's ancient emperors on Mount Tai.
The story of porters on Mount Tai was included in textbooks in China's primary schools in the 1980s. Though they may fade into history one day, they have been an indispensable part of the culture of the mountain.
The second episode of the documentary [Video provided to chinadaily.com.cn]
With a theme of "water", the second part of the documentary fully demonstrates the positive contributions and significant achievements made by the local government and others in the protection, inheritance, as well as utilization of the heritages of Mount Tai. It delves into a variety of topics like the ancient beliefs of the Dongyue Emperor and Goddess Bixia that were inspired by Mount Tai's ancient trees, springs, and birds, the four famous medicines of Mount Tai, as well as newly discovered new species on Mount Tai.
Mount Tai is one of China's Five Sacred Mountains, holding great historical and cultural significance. Its peak is referred to as the Jade Emperor Peak and is approximately 1,500 meters above sea level. It has been a UNESCO World Heritage Site since 1987.