Mount Tai among China's most joyous natural sites
(chinadaily.com.cn)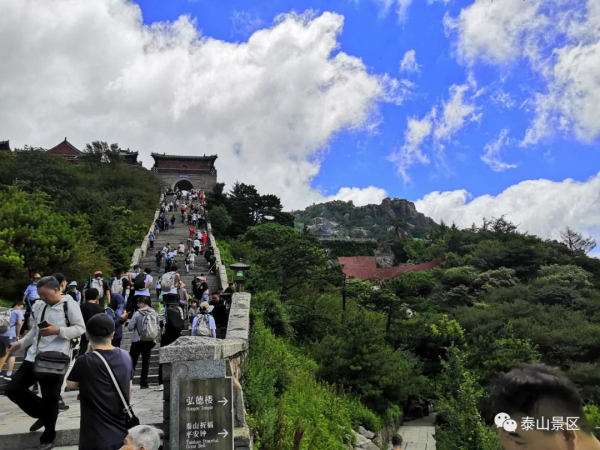 Tourists at Mount Tai [Photo/WeChat account: china-taishan]
The Mount Tai Scenic Area in Tai'an, Shandong province scored the highest on the joyful index among China's natural attractions, according to the ranking released on July 4.
The ranking by the China Tourist Attractions Association and OCT Innovation Research Institute is the first comprehensive tourist experience evaluation system based on tourism big data in China.
The report includes the top 100 Chinese tourism attractions joy index ranking in June and the top 20 monthly joy index ranking in terms of natural landscapes, cultural landscapes, museums and modern amusement spots.
The top three locations in the ranking are Shanghai Disney Resort, Lijiang Ancient Town Scenic Spot and Mount Tai Scenic Area. Mount Tai was also ranked the top natural attraction in China.
Mount Tai is a popular tourism destination in Tai'an with breathtaking natural scenery. It was recognized as a world natural and cultural heritage site in 1987. It is the most famous sacred mountain in China and has exceptional historic, cultural, aesthetic, as well as scientific value.