Tai'an sees robust development in cultural, tourism industries
(chinadaily.com.cn) Updated: 2020-12-16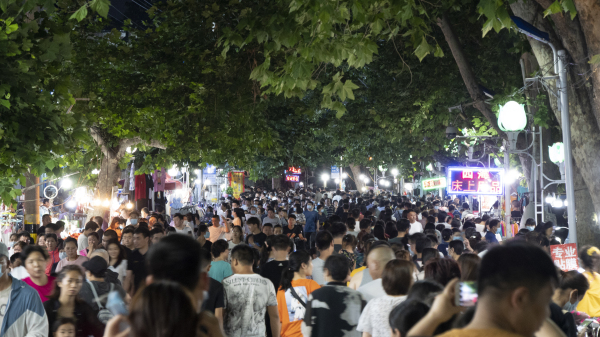 Photo taken on June 18 shows Beixin night market in Tai'an crowded with tourists. [Photo/IC] 
Tai'an, East China's Shandong province has seen robust development in its cultural and tourism industries over past five years and has accomplished many of its goals set for the 13th Five-Year Plan period (2016-20), local authorities reported.
The city's major indicators in the tourism industry maintained rapid growth. The total number of tourists increased from 57.9 million in 2015 to 82.62 million in 2019, while total tourism revenue increased from 58.23 billion yuan ($8.9 billion) in 2015 to 90.61 billion yuan in 2019.
The added value of the cultural industry increased from 9.58 billion yuan in 2015 to 11.42 billion yuan in 2019, accounting for 4.3 percent of the city's GDP.
From January to September of this year, the total number of tourists in the city reached 40.45 million, generating revenue of 38.36 billion yuan, showing signs of recovery despite COVID-19.
Tai'an has also made strong efforts to improve its public cultural services. During the 13th Five-Year Plan period, it established 3,739 comprehensive village and community cultural service centers.
Free access to public cultural facilities such as libraries, cultural centers and museums has also continued to expand, and the protection of cultural heritage has been steadily improved. The city is currently home to three world cultural heritage sites, 14 key national cultural relic protection units and 44 museums.
The number of A-class scenic spots in the city increased from 45 in 2015 to 74 in 2019, including one 5A scenic spot and 13 4A scenic spots.