Ancient Xianya Tourism and Cultural Scenic Area
(chinadaily.com.cn)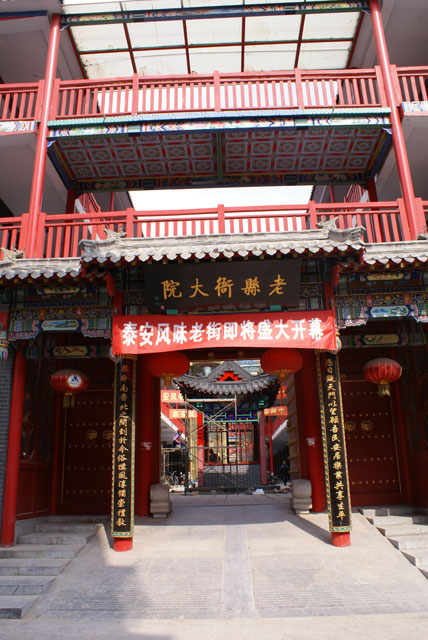 The Ancient Xianya Tourism and Cultural Scenic Area in Tai'an, Shandong province houses ancient Chinese government offices. [Photo/taian.gov.cn]
The Ancient Xianya Tourism and Cultural Scenic Area is divided into five sections – the Ancient Xianya Museum, the Ancient Xianya Tourism Product Market, the Former Residence of Xiao Daheng, Mount Tai Snack Street, and the Mount Tai International Youth Hotel. "Xianya" refers to an ancient Chinese government office.
The scenic area showcases Tai'an city's history and offers sightseeing opportunities, accommodation, recreational activities, shopping, and catering services.
The Ancient Xianya Museum covers an area of 1,362 square meters and showcases ancient Chinese government offices from Qing Dynasty (1644-1911) .
The museum also displays ancient photos, calligraphy, and paintings by famous people from Tai'an, as well as handicrafts showcasing the city's history and culture and stories of city officials from ancient times.
The Ancient Xianya Tourism Product Market sells nearly 1,000 different tourist trinkets related to Mount Tai.
Mount Tai Snack Street offers a variety of delicious foods from around China, particularly local Tai'an snacks. There are currently 20 stores operating there, selling rice noodles, Hunan cuisine, pancakes, roasted food, and more.
Chinese shadow puppetry performances are also popular among tourists. Taishan shadow puppetry was named a national intangible cultural heritage item in 2008.