German Birkenfeld delegation visits Tai'an
(chinadaily.com.cn) Updated: 2019-10-28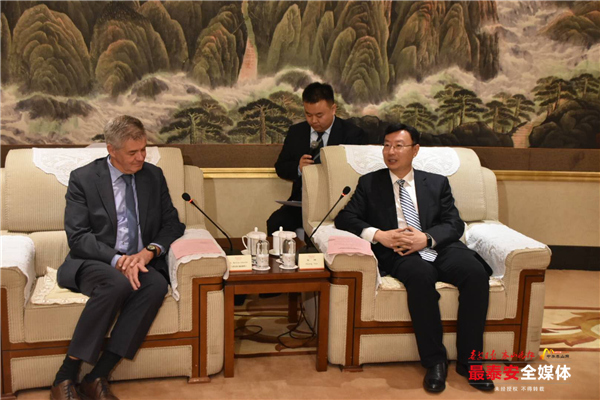 Zhang Tao (right), mayor of Tai'an, talks with Matthias Schneider, chief executive of Birkenfeld municipality in Rhineland-Palatinate, Germany. [Photo/my0538.com]
A German government delegation led by Matthias Schneider, chief executive of Birkenfeld municipality in Rhineland-Palatinate, Germany, visited Tai'an, Shandong province on Oct 24.
Zhang Tao, mayor of Tai'an, said that his city enjoys an advantageous location, is well-connected via public transportation, has an excellent natural environment, is rich in mineral resources, and is very competitive in science and education.
Zhang said that Tai'an hopes to work with Birkenfeld to further develop bilateral cooperation in economy, culture, tourism, and education.
Zhang added that during their stay in Tai'an, the delegation could visit some of the city's famous sites and offer advice on the city's economic and social development.
He hoped that this visit would lead to stronger cooperation between the two sides.
Schneider also expressed hope that the visit would increase cooperation between the two sides in tourism, economy, and more, and lay a solid foundation for future exchange.
A promotional event for investment and trade was also held, gathering representatives from both sides with the goal of generating more cooperation opportunities.
Visits to industrial parks and enterprises in the Tai'an Hi-tech Zone were also organized to give the German delegation a better understanding of the city's business environment and economic and social development.