Taishan district cashes in over National Day holiday
(chinadaily.com.cn) Updated: 2019-10-09
Taishan district in Tai'an, Shandong province welcomed 253,700 tourists during the week-long National Day holiday, generating revenue of 39.54 million yuan ($5.55 million), setting a record high.
Fantawild Adventure received 74,500 tourists during the Golden Week holiday, producing a total revenue of 12.47 million yuan.
Baotailong Scenic Area drew 142,800 visitors and gained 26.04 million yuan.
Taishan Colorful Time Scenic Spot welcomed 15,500 visitors, gaining revenue of 291,000 yuan.
In celebration of the 70th anniversary of the founding of the People's Republic of China, scenic spots in the district launched themed activities to add to the festive atmosphere and attract more visitors.
Rural tourism proved to be more popular among tourists during the holiday, with many choosing to enjoy a relaxing holiday in the countryside, where they can get close to nature and enjoy an idyllic rural experience.
Fruit picking activities were popular among families with kids, which allowed them to enjoy a short trip to rural and suburban areas.
The local government also stepped up its security and emergency response capabilities throughout the holiday to ensure that visitors can enjoy a safe and pleasant environment during their stay.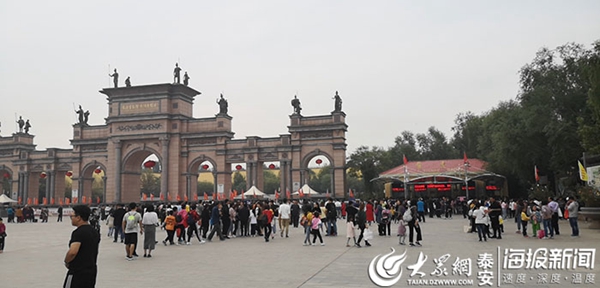 Baotailong Scenic Area is crowded with visitors during the National Day holiday in Tai'an, Shandong province. [Photo/dzwww.com]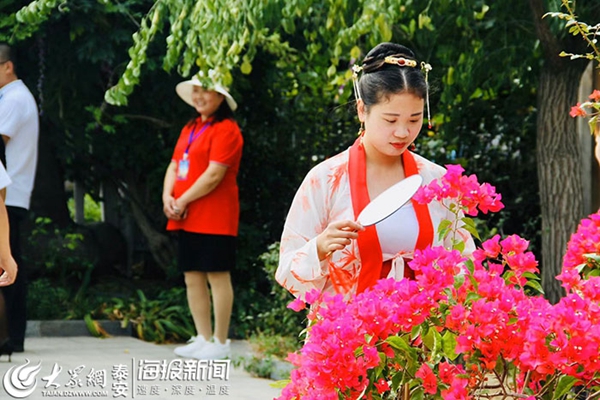 A visitor dressed in hanfu, or Han Chinese clothing, appreciates blooming flowers at a scenic spot in Taishan district of Tai'an. [Photo/dzwww.com]