Major projects break ground in Taishan district
(chinadaily.com.cn) Updated: 2019-10-08
A total of 31 key projects started construction on Oct 8 in the Taishan district of Tai'an, East China's Shandong province, with a total investment expected to come in at 10.32 billion yuan ($1.45 billion), officials said.
Of these, some 26 cost over 100 million yuan and three projects will cost more than 1 billion yuan.
According to local officials, the projects are major industry ventures and will help to accelerate the shift of growth drivers from old to new and push ahead with the economic transformation and upgrading of Taishan district.
A smart home project, with a total investment of 1.6 billion yuan, will be jointly constructed by Mibo Telecommunication, a high-tech company based in Beijing and Doton, a Shandong-based furniture company, covering an area of 184 mu (12.27 hectares).
It is estimated that the project will generate 3 billion yuan in sales revenue annually and become a well-known domestic robot manufacturing center and intelligent home production base in China when it goes into operation.
In recent years, Taishan district has been promoting high-quality development and creating a new engine for the modernized economy, local officials said.
In the first half of the year, its GDP reached 30.91 billion yuan, and the industrial structure was optimized.
Officials said that the district is making full use of local competitive industries to attract more investment and high-end professionals to further expand local economic development.
Taishan district has organized a series of business promotions and match-making activities and inspection tours and forums for entrepreneurs.
A raft of high-tech projects have settled in the district, injecting new impetus to the district's development, officials said.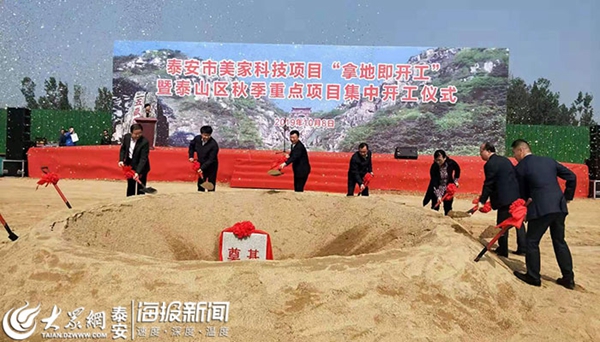 The ground-breaking ceremony for 31 key projects is held on Oct 8 in the Taishan district of Tai'an, East China's Shandong province. [Photo/dzwww.com]