Feicheng enjoys increased benefits from new business model
(chinadaily.com.cn) Updated: 2019-08-15
Taking advantage of the e-commerce economy, Liutai village in Feicheng, a county-level city in Tai'an, Shandong province, has explored a new model of "peach industry + e-commerce + tourism" in recent years to increase the income of the local orchardists, promoting the upgrading of the traditional peach planting industry.
In order to boost the local peach industry, the village, which is home to nearly 2,000 mu (133.33 hectares) of peach gardens, has established a peach production and marketing cooperative with a registered peach brand.
In recent years, the local government has insisted on the development of the peach industry in Feicheng as the focus of agricultural work.
Lead by the local peach industry association and cooperative, the village has constructed a standardized peach demonstration garden, as well as a high-quality peach seedling cultivation base in the village.
Fruit tree experts from universities and departments such as Shandong Agricultural University, Shandong Institute of Pomology, and the Tai'an municipal bureau of forestry have been invited to provide training and technical support, such as pest control, peach pruning, as well as flower and fruit thinning, which has improved orchard management and boosted the production of green, pollution-free fruit.
At present, Liutai village can produce 4,000 tons of peaches per year, covering a slew of varieties. About 99 percent of local farmers are engaged in the peach industry in Feicheng, earning about 20,000 yuan ($2,837) per person annually.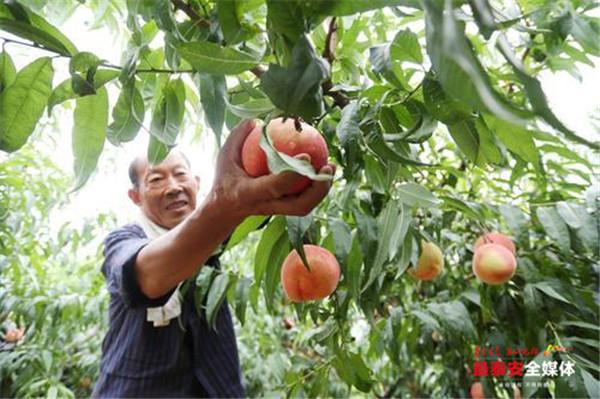 A farmer in Liutai village picks peaches at his orchard in Feicheng, a county-level city in Tai'an, Shandong province. [Photo/my0538.com]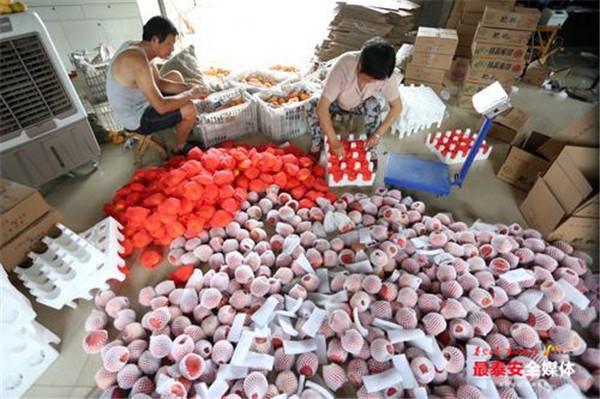 Farmers in Liutai village are busy sorting and packing peaches for online sales. [Photo/my0538.com]