Tai'an deepens VAT reform to reduce corporate burden
(chinadaily.com.cn) Updated: 2019-06-10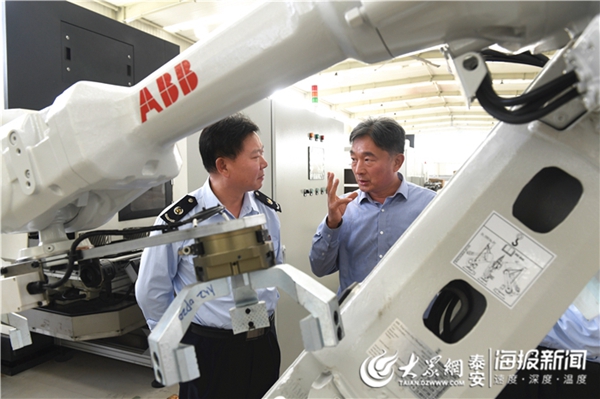 An official from the Tai'an tax bureau talks with a manager at a local enterprise. [Photo/dzwww.com]
Enterprises in Tai'an, Shandong province have benefited from a new round of value-added tax (VAT) reform that have been implemented since April 1 as part of larger-scale tax cuts and fee reductions that have taken effect this year.
Shandong Taishan Pumped Storage Power Station Co, a State-owned enterprise engaged in electric power production, reduced its value-added tax by 706,400 yuan ($102,160) in the first month of the VAT reform.
According to Liu Chen, CFO of the company, the company is expected to save 9 million yuan of value-added tax for the whole year based on the new VAT rate, which will greatly increase the liquidity of funds.
"In addition, as a State-owned enterprise, with the money saved from tax cuts, we can better fulfill our social responsibilities, take an active part in local public welfare programs, and make greater contributions to stimulating the economy, promoting employment and supporting targeted poverty alleviation efforts," he added.
Shandong Tagao Mining Machinery Equipment Manufacturing Co is a professional enterprise engaged in the R&D and manufacturing of large-scale coal mine machinery equipment. Its products are exported to Mexico, Russia, Poland, and many other countries.
"The value-added tax rate for manufacturing businesses has been reduced from 16 percent to 13 percent from April 1. In the first month, we realized a VAT reduction of more than 960,000 yuan, which will enable us to participate and compete in the international market with more sufficient confidence," said Yuan Xiaobo, the legal representative of the company.