Tai'an trade group bags big deals with Guangdong province
(chinadaily.com.cn) Updated: 2019-05-10
A trade delegation from Tai'an, led by municipal Party Secretary Cui Honggang, has returned from a trip to Guangdong province having signed 15 projects at a whopping contract value of 9.57 billion yuan ($1.41 billion).
During the visit which took place from May 6 to 9, the delegation visited a dozen enterprises in cities such as Guangzhou, Heyuan, Meizhou and Shenzhen to strengthen exchanges and promote cooperation.
In an effort to increase cooperation and drum up more business for the city, the Tai'an delegation also organized an investment promotion fair on May 8 to detail the city's sound business environment and favorable investment policies.
More than 100 business elites and enterprise representatives participated in the fair, including Wang Dianjie, chairman of the Hong Kong Shandong General Chamber of Commerce, Wang Lizong, president of the Guangdong High-Tech Industry Chamber, Li Bin, vice-manager of Amer International Group and Chen Wenhui, president of Pangoo Group.
A total of 14 projects were signed at the fair, involving a contract value of 9.57 billion yuan. The projects will contribute to Tai'an city's high-quality development and accelerate its transforming from old growth drivers to new ones.
In addition, Daiyue district government, Lushang Group and the Guangdong Hakka Park Investment Co also signed a strategic cooperation to jointly build an eco-tourism resort project in Daiyue district.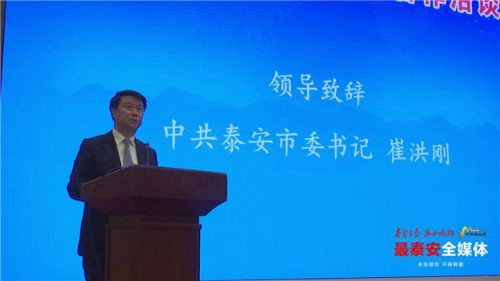 Cui Honggang, Party secretary of Tai'an, delivers a speech at the investment promotion fair on May 8. [Photo/my0538.com]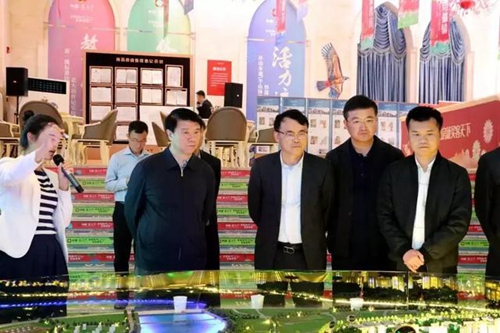 Tai'an delegation learns about the construction plan of the Hakka Park Scenic Spot in Meizhou city, Guangdong province. [Photo/my0538.com]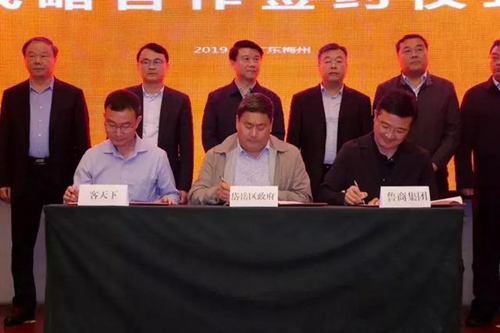 Daiyue district government, Lushang Group and the Guangdong Hakka Park Investment Co also sign a strategic cooperation to jointly build an eco-tourism resort project in Daiyue district. [Photo/my0538.com]