Inheritor introduces history of Mount Tai stone rubbing
(chinadaily.com.cn) Updated: 2018-08-01
Zhang Yaming, inheritor of Mount Tai stone rubbing, introduced the traditional art to a group of children in Shandong province on July 21.
The event, organized by the Shandong Cultural Center, was aimed to popularize and attract people to learn about the art.
Stone rubbing, also known as inked squeeze, is a process by where features of the surface of a stone are transferred onto paper. Originating from the Qin and Han dynasties (BC 221 – AD 220), it was devised as a way of making multiple copies of inscriptions.
The sheer quantity of the pieces of stone inscriptions and carvings on Mount Tai of Tai'an, Shandong province, 1,565, makes them great sources for the art of making rubbings, which was listed as a provincial intangible cultural heritage by Shandong in 2016.
Apart from introducing the basics of the art of stone rubbing, Zhang also taught children stone rubbing techniques.
Six steps are needed to make a stone rubbing: cleaning the stone inscriptions or carvings, soaking the paper, spreading the paper over the stone inscriptions and carvings, tapping the paper to remove the air between the paper and the stones, adjusting the amount of ink, and inking.
The children enjoyed learning about the process and afterwards shared with each other what they had produced on the day.
"I'm very glad to have introduced the art of traditional stone rubbing to the kids today. It is important for them to learn about the different kinds of traditional cultures there are in China. I hope that this event can arouse interests in the traditional art, and that some of them will learn further and inherit the art," said Zhang.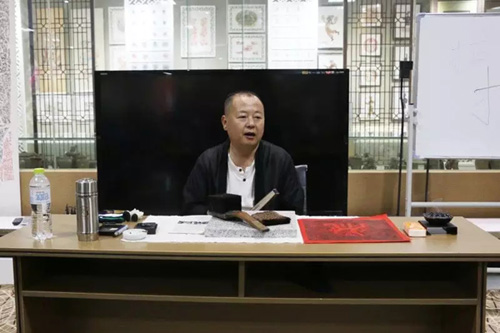 Zhang Yaming, inheritor of Mount Tai stone rubbing, introduces the traditional art to a group of children in Shandong province on July 21. [Photo/WeChat account: sdswhg]