Town characterizes jewelry and tourism
(chiandaily.com.cn) Updated: 2018-06-29
Dongping plans to build a characteristic town featuring jewelry production and tourism, in its northern part, as part of its broader push to invigorate local economic development, local media reported.
Serving as a hub for jewelry production, Dongping, a county-level city in Tai'an, Shandong province, is home to more than 200 small and medium-sized businesses and over 10,000 workers involved in the jewelry industry.
In a bid further boost growth in the industry, the town, to be built, shall accommodate a complete jewelry industrial chain, covering production, processing, design, research, exhibition and trade.
Meanwhile, it is also designed to be a new scenic spot on offer for visitors to the city, in which they are able to carry on tours along with participating in various recreational and entertainment activities.
Dongping enjoys abundant tourism resources, with a number of scenic spots including the Dongping Lake, the Baifo Mountain, the Shuihu Film Studio, the Daicun Dam and the Daotunwa Wetland.
Its geographical location gives the county a catchment area of over 10 million potential customers, as it takes only around one hour to travel from Dongping to the neighboring cities such as like Jinan, Tai'an, Jining, Heze and Liaocheng.
With the establishment of the characteristic town, it is hoped that both the growth of the jewelry and tourism industries will gain another momentum, making them two pillar industries in this area.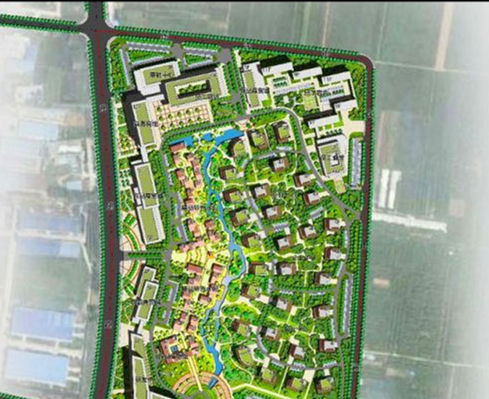 The conceptual sketch of the characteristic town in Dongping county, Shandong province.[Photo/my0538.com]