Tourism booms in Tai'an during Dragon Boat Festival
(chinadaily.com.cn) Updated: 2018-06-21
More than 520,000 tourists visited Tai'an during the three-day Dragon Boat Festival holiday this year, generating around 32 million yuan ($5 million) in revenue, local media reported, citing statistics from local authorities.
Tai'an, located in East China's Shandong province, is one of China's hottest tourism destinations and is renowned for Mount Tai.
This year, Mount Tai, one of the Five Great Mountains of China, was still the top choice for tourists traveling to Tai'an.
Official data shows that the mountain, which falls in the national 5A scenic spot category, the highest level in China, received 67,300 tourists on June 16-18, with revenue reaching 5.44 million yuan, up 3.94 percent year-on-year.
As well as Mount Tai, other tourism spots in the city also saw an increase in popularity, fuelling the growth of tourism in the city.
Scenic spots including Baotailong scenic area, Lianhua Mountain and Chunqiu ancient town in Tai'an all saw fast year-on-year growth in tourist numbers and revenue. Meanwhile, the surge in rural tourism across the country has also reached Tai'an, as numerous villages in the city witnessed a tourism boom during the holiday.
Tourists enjoyed visiting ecological farms, going on traditional folk tours, and partaking in a variety of rural entertainment activities such as fruit-picking and fishing.
With the three-day break coinciding with the graduate season this year, local authorities also rolled out an assortment of promotional events targeting students nationwide.
Students with the necessary identification are entitled to an array of perks including discounted ticket prices or free entry to some attractions in Tai'an during the graduate season, which lasts around a month.
The Dragon Boat Festival, which fell on June 18 this year, remembers the life of Qu Yuan, a ministerial scholar and patriotic poet of the state of Chu during the Warring States period (475-221 BC).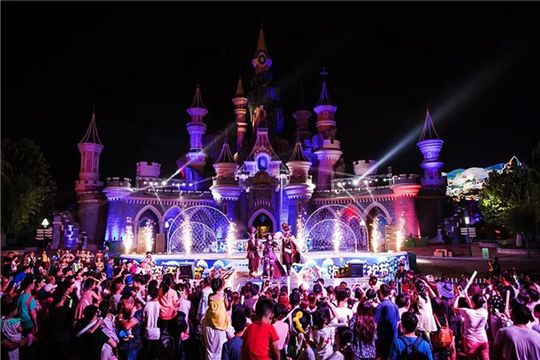 Visitors watch a night show in Fantawild Adventure Theme Park in Tai'an, East China's Shandong province. [Photo provided to chinadaily.com.cn]