Dongyue Temple Fair wraps up
(chinadaily.com.cn) Updated: 2018-05-10
The annual folk festival Dongyue Temple Fair of Mount Tai wrapped up on May 6 in Tai'an, Shandong province, attracting nearly 50,000 tourists over the eight-day celebration.
According the Mount Tai Scenic Area Management Committee, the 50 percent discount on ticket price for Tai'an locals helped to lure more visitors this year.
With a long history and a far-reaching influence, the Dongyue Temple Fair is China's most representative fair. This year also marks the 10th anniversary for the temple fair to be listed in the national intangible cultural heritage; it was listed in June, 2008.
Nearly 25 activities featuring culture, folk custom, performances and trade were provided for visitors to experience Chinese traditional culture.
A highlight of the temple fair -- an intangible cultural heritage handicraft exhibition was also offered for tourists, with more than 50 handicrafts, including Mount Tai shadow puppetry, paper cutting, woodcut and dough modeling on exhibition.
A local surnamed Sun said that he visited the Dongyue Temple Fair with his family every year to enjoy the traditional folk custom.
"This year's exhibition of national intangible cultural heritage was a great opportunity for my son to experience the ancient Chinese culture and to satisfy his curiosity."
Kuo-hua Yip, president of the Taiwan Chinese Calligraphy Society, said that Mount Tai is an excellent symbol of Chinese culture.
"The Mount Tai culture is quite popular in Taiwan and Mount Tai is a popular travel destination for Taiwan tourists. We feel warm and cozy while visiting the majestic mountain for familiar culture and excellent facilities," he said.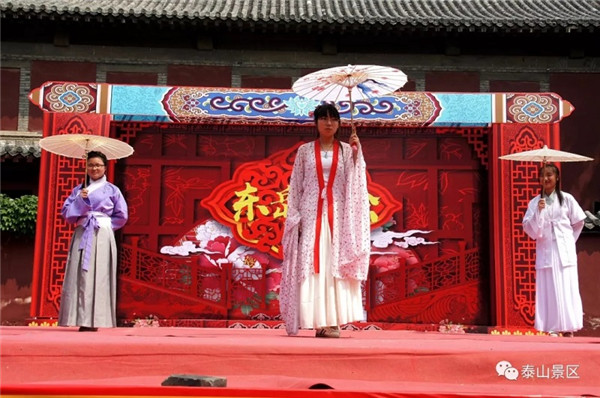 An exhibition of traditional Chinese costumes is provided for visitors at the Dongyue Temple Fair. [Photo/WeChat account: china-taishan]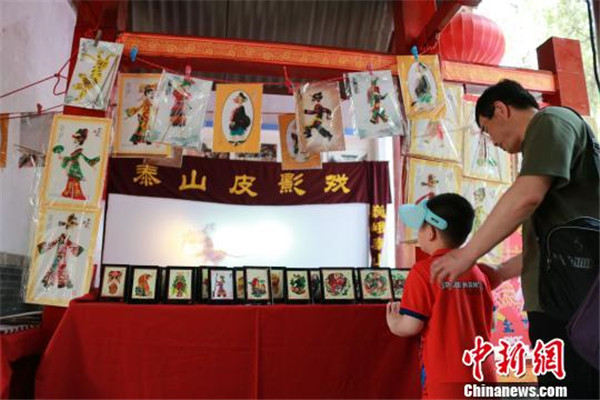 A young boy watches Tai'an shadow puppets at the Dongyue Temple Fair. Tai'an shadow puppetry has been listed as a national intangible cultural heritage. [Photo/Chinanews.com]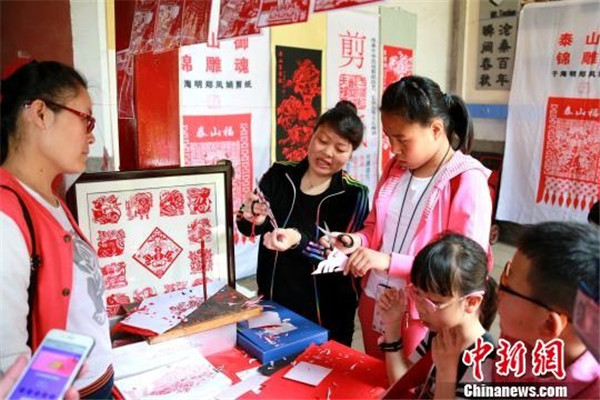 Visitors try their hands at paper cuttings, one of the national intangible cultural heritages, under the guidance of a master at the Dongyue Temple Fair in Tai'an, Shandong province. [Photo/Chinanews.com]