Mount Tai welcomes worldwide photographers
(chinadaily.com.cn) Updated: 2017-08-14
More than 300 photographers from countries across the world climbed the historic Mount Tai in Tai'an, Shandong province on Aug 10 to capture the beautiful scenery on camera.
The photographers visited Tai'an as part of the Fifth FIAP Photo Meeting, one of the flagship events in world photography, which is being held in China for the first time this year.
The event organizers FIAP (International Federation of Photographic Art) and the Taishan Mountain Scenic Area Management Committee also signed a strategic cooperation agreement during the visit.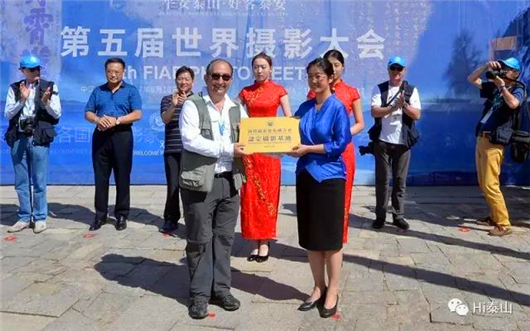 Officials from the FIAP and Tai'an announce that Mount Tai will become the world photography association's first officially recommended photography site. [Photo/WeChat account: Hi Taishan]
The FIAP has made Mount Tai its first ever officially recommended photography site as part of the agreement.
"We have members stretching out to 99 countries and we will arrange more photographic activities at Mount Tai. We will help to bring the beauty and majesty of Mount Tai to the whole world through our lenses," said the president of the FIAP, Riccardo Busi.
Ye Peng, a top official from the Mount Tai Scenic Area Management Committee, said that the cooperation with the FIAP will help to promote Tai'an's tourism industry and increase Mount Tai's profile around the world.
Renowned as one of China's "five sacred mountains", Mount Tai has been one of the symbols of China and Chinese culture since the time of the legendary Xia Dynasty (c. 21st century - 16th century BC). For more than 2,000 years, Chinese emperors climbed the mountain to offer sacrifices to heaven, one of the most important imperial rituals.
The visiting photographers were all fascinated by the magnificent view and unique cultural legacy on Mount Tai.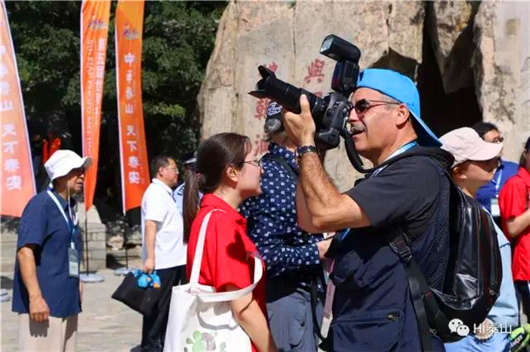 A foreign photographer is engrossed in shooting during his tour at Mount Tai on Aug 10. [Photo/WeChat account: Hi Taishan]
"I'm impressed with the mountain's majestic and precipitous appeal, and it offers limitless opportunities for photography," said Kurt Batschinski, a famous photographer from Austria.
"Though I've been to China many times, it's my first visit to Mount Tai and I have really enjoyed the trip. I will come here again when I get the chance," he added.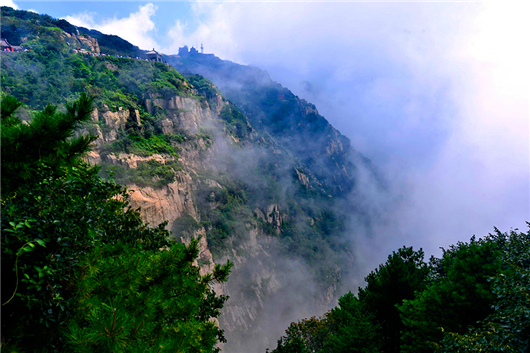 Morning at Taishan Mountain in Shandong province, Aug 10, 2017. As the sun emerges after a spattering of rain, the floating white clouds and thick mist makes the scenic spot look like a fairyland. [Photo by Ju Chuanjiang/China Daily]
"My camera has kept clicking and whirring since I arrived at Mount Tai. The mountain is so spectacular and I've got many good shots," said Irmeli Kauppinen, a photographer from Andorra.
The 2017 FIAP Photo Meeting is supported by UNESCO China, and jointly hosted by the FIAP, Shandong Tourism Development Committee, Shandong Provincial Department of Culture, and the Shandong International Culture Exchange Center.