Tai'an named one of China's top 10 tourist destinations
(chinadaily.com.cn) Updated: 2016-12-06
Tai'an city in East China's Shandong province was named one of China's top 10 tourist destinations in a new travel report released by the leading Chinese travel portal LY.com.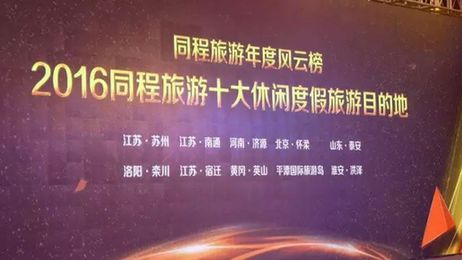 Tai'an of East China's Shandong province is listed among China's 10 most popular leisure travel destinations during the Chinese travel portal LY.com's annual tourism summit in Suzhou on Nov 17. [Photo/tata.gov.cn]
Suzhou-based LY.com released the report during the company's annual tourist destination summit on Nov 17. The report includes league tables for China's best travel destinations for a number of different categories, with the rankings determined by data collected from LY.com's millions of users, including travel statistics, user reviews and comments on the destinations.
Tai'an was ranked among the top 10 destinations in China for both nature-based travel and catering for international tourists, while nearby Mount Tai was recognized for providing visitors with an excellent travel experience.
The city's success suggests that Tai'an's strategy of promoting region-based tourism, an innovative model of tourism that focuses on the quality of travel experience the city is offering rather than the quantity of tourists arriving each month, is already beginning to pay dividends.
The beautiful city at the foot of Mount Tai has established itself as a popular tourist site. During the first half of 2016, Tai'an welcomed 28.1 million tourists, who spent a combined 28.3 billion yuan ($4.1 billion).