Foreigners flock to Mount Tai to learn martial arts
(chinadaily.com.cn) Updated: 2016-07-06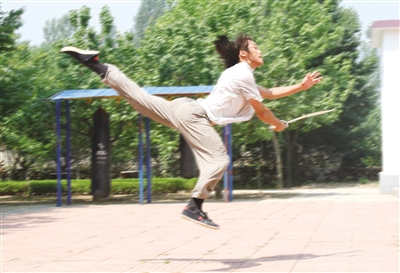 A foreign student leaps through the air while practicing Chinese swordplay. [Photo/tarb.cc]
Liujiayu, a small village in Tai'an's Daiyue district, located to the northeast of Mount Tai, is becoming a mecca for those wishing to study classic Chinese martial arts such as kung fu and tai chi, attracting many foreign students.
Enclosed by flowing mountains and green trees, the Middle Kingdom Traditional Kung Fu School is a tranquil and secluded place for practicing kung fu.
Small groups of foreign martial arts students scatter the courtyard behind the school, performing tai chi poses, nanquan routines (a martial art that originated south of the Yangtze River ), and sanda (Chinese boxing).
As a car drives into the school car park, Simon, a 60-year-old Briton, stops his tai chi, smiles and nods, before bending his knees back in to the "high pat of horse" position.
Denis, a 19-year-old Brit, uses his bare fists to punch a poplar tree in the school's courtyard, as part of a tai chi routine designed strengthen his bones. After punching for an hour, his master approaches to run him through his paces, however Denis yields quickly to his master's superiority and years of practice and experience.
In the hall, another master, Wang Meng, teaches wing chun, a popular fighting style specializing in self-defense and close-range combat, to his apprentices. Master Wang demonstrates the movement essentials and explains in English. However, most of the time, the profundity of the Chinese language troubles the foreign kung fu learners, as many of the idiomatic expressions are often difficult to understand when translated into English.
However, the kung fu school has its own professional Chinese translator, Quan Guanlong, to assist the foreigners in their martial arts instruction. He says the school is teaching more and more foreign students each year, with particular peaks being in July, August and September.
Quan adds that the school has taught foreign students from countries such as the US, France, UK, Ireland and Norway, and that the students come from all different walks of life. Some are young high school graduates, others retirees, but all are linked by the common thread of having a passion for martial arts.
The foreign students' learning time varies from a month to up to a year.
Simon, currently the oldest pupil at the school, says that he was inspired by Bruce Lee, Jackie Chan, Jet li and even the Kung Fu Panda films, and that the western world's fascination with martial arts has been around for a long time.
Helen, also from the UK, had some health problems 15 years ago. She came to the school to learn tai chi in order to strengthen her body, fight against diseases, and lead a healthy life during her rehabilitation.
Reka, a 24-year-old American girl, says that she is a big fan of Chinese kung fu and that learning the martial art in the country of its birthplace is a dream come true.
Quan says that so far the school has trained more than 300 foreign students. Many of them are often first timers to China so they have to start from square one, such as learning how to use chopsticks.
Quan adds that the school will continue to spread its martial arts message to the rest of the world, and he welcomes all foreigners who wish to discover more about its teachings and mysticism.