Mount Tai promoted in Ningxia
(chinadaily.com.cn) Updated: 2016-06-29
A Mount Tai promotion event sponsored by the Mount Tai management committee and China Travel Service Head Office Co was held on June 17 in Yinchuan, Northwest China's Ningxia Hui autonomous region, Mount-tai.com.cn reported.
During March the Mount Tai management committee conducted a systematic marketing research in the five northwest provinces of China (Shaanxi, Gansu, Ningxia, Qinghai and the Xinjiang Uygur autonomous region), in a bid to foster and boost its tourism market.
According to the management committee, the "Mount Tai-Shandong Peninsula" travel route is recommended to tourists coming from Northwest China as direct flights from Yinchuan to Qingdao are set to open this July.
The committee also joined hands with local travel agencies to roll out new tourist routes including "Beijing-Mount Tai" and "Qufu-Taierzhuang" after the Jinan-Shijiazhuang High-speed Railway opened in January, to be followed by the Xuzhou-Zhengzhou Railway set to open in July.
A five-day mass self-driving tour along the Yellow River to Mount Tai was launched to cater to the increasing travel demand during the Eid al-Fitr and Eid al-Adha (Corban Festival) holidays in the Ningxia Hui autonomous region.
After in-depth discussion, China Travel Service Head Office Co's subsidiaries of Ningxia, Gansu and Qinghai jointly established a working group to conduct field inspections in Mount Tai by the end of June to promote new tourism products of Mount Tai and its surrounding areas.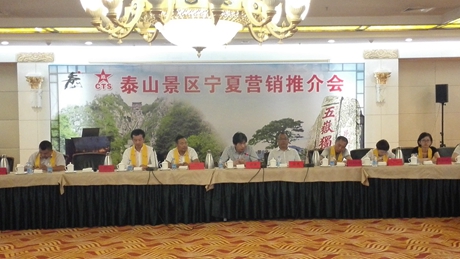 A Mount Tai promotion event sponsored by the Mount Tai management committee and China Travel Service Head Office Co is held on June 17 in Yinchuan, Northwest China's Ningxia Hui autonomous region. [Photo/Mount-tai.com.cn]