Spring Festival tourism proves popular in Tai'an city, Shandong province
(chinadaily.com.cn) Updated: 2016-02-18
Tourism in the city of Tai'an, Shandong province, is experiencing a seasonal boom this spring as record numbers of visitors were attracted to the city for the Spring Festival holiday from Feb 7 to 13, according to the tourism bureau.
Statistics show that the city, most famous for the historic Mountain Taishan, welcomed 1.39 million domestic visitors over the festival period, reaping in a whopping 1.3 billion yuan ($200 million) in revenue, a year on year increase of 16.56 percent.
Expecting the Spring Festival rush, the city made sure that popular tourist attractions could cope with the peak in numbers, and indeed, many locations experience a great increase in ticket sales.
Visitors were given a wide range of choice and could take part in folk custom activities and special cultural programs based on local traditions.
Other sectors sought to cash in on the huge visitor numbers were travel and booking agencies, hotels and restaurants, all offering special deals and discounts for the festival.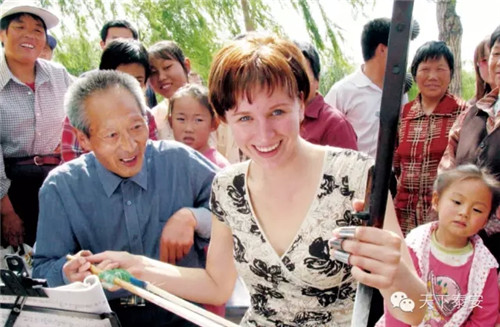 A foreign tourist takes part in a folk activity during Spring Festival 2016, in Tai'an city, Shandong province [Photo provided to chinadaily.com.cn]