Zhou Qiang calls for strong judicial support in Liaoning's vitalization
Zhou Qiang, president of the Supreme People's Court (SPC), called for strong judicial support for the all-round vitalization of Northeast China's Liaoning province during his visit to the province from July 2 to 3.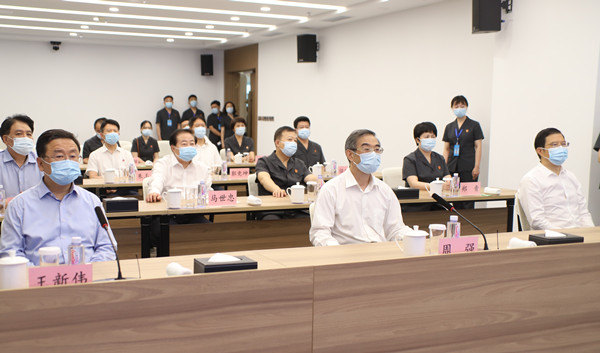 Zhou Qiang, president of the Supreme People's Court (SPC), visits the IP court in Shenyang, capital of Liaoning province. [Photo/ court.gov.cn]
During his visit to the SPC's 2nd Circuit Court stationed in Shenyang, capital city of Liaoning province, Zhou emphasized the need to fully tap the pilot role of circuit courts in judicial reforms, while using the circuit court as a window to serve the people, help secure their legitimate rights and interests, and work towards high-quality socioeconomic development.
The Shenyang IP court has focused on integrating modern technologies into trial work to help build a smart digital IP court. Through the judicial blockchain platform, difficulties experienced in collecting and fixing evidence in the traditional work style were resolved. Zhou applauded the progress and urged further efforts on extensive application of information technology in judicial areas to drive innovative development. Teng'ao county court has striven to improve the one-stop diversified dispute resolution and litigation service system, in a bid to facilitate the development of the local private economy. Zhou inquired about specific measures on optimizing the business environment with judicial services, and emphasized the need to release more pragmatic judicial measures to foster a sound legal environment for local market entities.
Visits were also made to community centers on grassroots governance. Zhou acknowledged their work in integrating social forces into community governance with combined online and offline services, and called for more efforts to tap into modern technology to achieve more targeted and efficient services under the leadership of the Party.
During the trip, Zhou also held a symposium at the Liaoning High People's Court, where he heard the work report from the court's president. He lauded the achievements made by Liaoning's courts in judgment execution, judicial reforms, smart court construction and team building. He stressed the importance of fully implementing the new development concept in propelling the high-quality development of courts work, which will serve in the all-round vitalization of the province. He also emphasized the importance of resolutely safeguarding political, institutional, and ideological security, playing the courts' due role in coordination of epidemic prevention and control and socioeconomic development, in order to foster a market-oriented, law-based and internationalized business environment.
More efforts are needed to consolidate the achievements made in the development of one-stop service platform, the deepening of judicial reforms and smart court construction, and a zero-tolerance approach should be adopted in the fight against judicial corruption, he added.