Zhou Qiang urges high-quality development of circuit court
Zhou Qiang, president of the Supreme People's Court (SPC), called for the high-quality development of circuit court to ensure the all-round vitalization of Northeast China during his visit to the second Circuit Court of the SPC on July 1.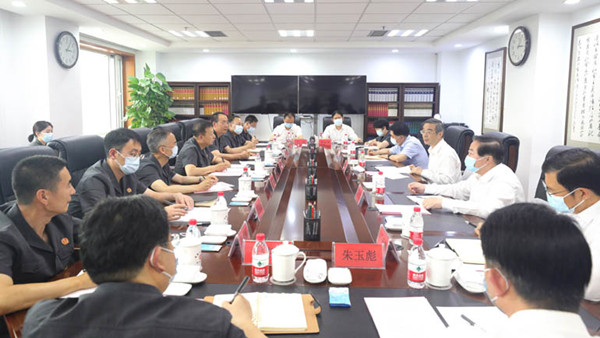 Zhou Qiang, president of the Supreme People's Court (SPC), visits the SPC's 2nd Circuit Court in Shenyang, capital of Northeast China's Liaoning province, July 1, 2022. [Photo/court.gov.cn]
After hearing the work report of the court, Zhou acknowledged the court's achievements in serving the people of the region. He pointed out that the establishment of circuit courts was a key measure for law-based governance. Practices have proven that the circuit courts have been well received by the people, and more efforts are needed to consolidate the achievements and deliver more justice for the people, Zhou said.
He stressed the absolute leadership of the Party in judicial work, adding that circuit courts should give full play to their functional roles and fully, accurately and comprehensively implement the new development concept while summarizing and promoting good experiences in optimizing business environments and resolving financial risks, so as to provide strong judicial guarantees for the vitalization of Northeast China in the New Era. A people-centered approach needs to be adopted in the work of the circuit court, with the aim of achieving an efficient resolution of disputes and better protection of people's interests and rights, according to Zhou. Innovation is essential to fully tap the pilot role of circuit courts, and informatization construction is needed to modernize trial systems and capacity, he said.
Zhou also stressed the need to improve the check and oversight mechanism of judicial power to help secure the integrity of justice.