Zhou Qiang holds virtual meeting with Cuban counterpart

Zhou Qiang, president of the Supreme People's Court (SPC) of China, meets with president of the Supreme People's Court of Cuba, Rubén Remigio Ferro, via video link on June 2, 2022. [Photo/ court.gov.cn]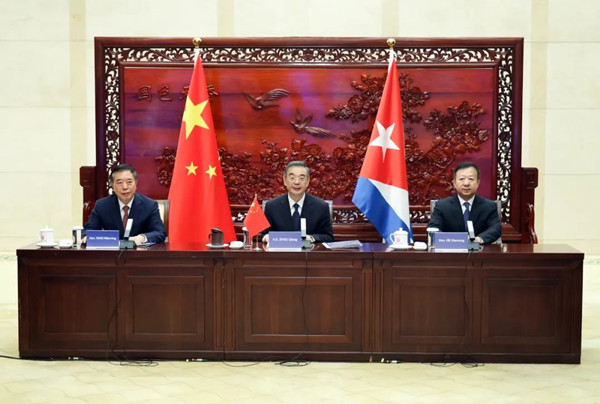 Zhou Qiang, president of the Supreme People's Court (SPC) of China, meets with president of the Supreme People's Court of Cuba, Rubén Remigio Ferro, via video link on June 2, 2022. [Photo/ court.gov.cn]
Zhou Qiang, president of the Supreme People's Court (SPC) of China, met with the president of the Supreme People's Court of Cuba, Rubén Remigio Ferro, via video link on June 2.
Zhou, also chief justice of China, said China and Cuba enjoy profound friendship and have maintained close judicial exchanges, and that the supreme people's courts of the two countries have deepened practical cooperation and yielded fruitful results. He introduced the measures taken by Chinese courts in COVID-19 response as well as the progress of judicial reforms in the country. Efforts were made to give full play to the judiciary's statutory roles and impose punishments on epidemic related crimes in accordance with the law, he said, adding that judicial policies and measures were improved to guarantee the resumption of work and production, the smart court's role was leveraged to settle disputes online with high efficiency, and strong judicial services were provided to coordinate epidemic prevention and socioeconomic development.
Noting that China has been deepening judicial reforms, Zhou said that China has built a one-stop diversified dispute resolution and litigation service system, launched three sets of regulations on online litigation, mediation and operation, released a directive on strengthening the judicial application of blockchain technology and has accelerated the digitization of courts in the country. An internet judicial rule system with Chinese characteristics has been established, which has improved trial quality and efficiency and has enhanced the people's sense of gain, Zhou added.
Zhou also expressed a willingness to work with his Cuban counterpart in deepening exchanges in such areas as the judicial response against the COVID-19 pandemic, personnel training, case studies, informatization development and judicial openness. Remigio said that the exchanges of the judicial organs between China and Cuba have laid a solid foundation for further bilateral cooperation. He introduced Cuba's judicial response against the pandemic and the achievements of their judicial reform. Applauding China's achievements in judicial reform, informatization development and work against the pandemic, he expressed his hope to have more practical cooperation with Chinese courts in personnel training and the application of information technologies.