Zhou Qiang reiterates protecting rights of the elderly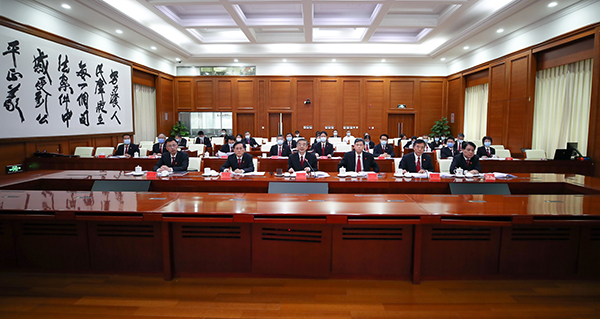 A meeting on facilitating a nationwide special campaign among courts to crack down on elderly fraud was held via video link on May 20, 2022. [Photo/ court.gov.cn]
Zhou Qiang, president of the Supreme People's Court (SPC), reiterated the need to severely crack down on elderly fraud according to the law in a bid to foster an amiable social environment for the elderly, while attending a video meeting on May 20.
Zhou pointed out that the nationwide special campaign among courts to crack down on elderly fraud is a major decision of the central authorities and thus an important political task for the people's courts. Since the launch of the campaign, all courts have acted swiftly in planning and implementation, carrying out publicity activities, improving working mechanisms and reinforcing case handling, which has kicked off to a good start in the campaign and has been well recognized by the public.
Now that the campaign has entered a key stage, Zhou emphasized the importance of solidly implementing the campaign's plan, giving full play to the functions of trial courts and cracking down on elderly fraud in strict accordance with law, in order to make sure the rectification is forceful, orderly and effective, secure the legitimate rights and interests of the elderly with concrete actions and promote healthy development of the elderly care industry so that the elderly can enjoy their lives.
Further efforts are needed to intensify punishments for criminals who are infringing on the rights of the elderly, hurting their physical and mental health and family harmony, and severely compromising social harmony, Zhou noted, adding that courts need to handle cases in strict accordance with law so that the campaign is carried out on the legal basis and every case can stand the test of law and history. Courts nationwide also need to spare no efforts to retrieve losses so as to minimize the economic losses of the infringed parties and to intensify risk prevention and control, he added.
Zhou also called for more efforts in institutional guarantee, leadership, mechanism support, coordinated planning and solid implementation.