Crackdown on trafficking crime lauded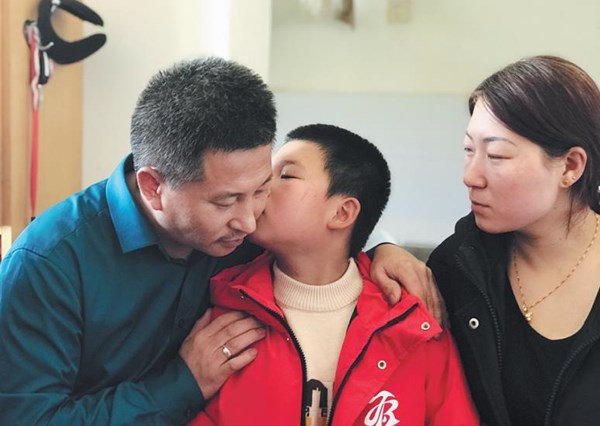 Liu Jingjun, center, who was abducted 11 years ago, is surrounded by his father Liu Liqin and his mother at their home in Taiyuan, North China's Shanxi province, in 2020. [Photo by Yang Zhoufen/For China Daily]
Government report vows to combat abduction of women and children
National lawmakers and political advisers have lauded the Government Work Report, in which the central government vowed to crack down hard on the trafficking of women and children.
As Premier Li Keqiang made the promise while delivering the report at the opening meeting of the fifth session of the 13th National People's Congress, China's top legislature, on Saturday, those in the Great Hall of the People in Beijing burst into applause.
Fu Yuhang, a deputy to the NPC, said that she felt excited when hearing the work report, "as it means our central government has attached importance to what concerns people deeply".
"The trafficking of women and children has been an issue heatedly discussed among Chinese people in recent weeks. I didn't expect it would be included in the central government's report in such a timely fashion," she said. "The move makes me feel more confident that our country can solve the problem."
As of Wednesday, the session's secretariat department had received 487 motions and about 8,000 suggestions from NPC deputies, with some calling for the top legislature to amend the Women's Rights Protection Law and crack down on human trafficking through rule of law.
On Tuesday, China's top judicial authorities-the Supreme People's Court and the Supreme People's Procuratorate-also pledged to protect the lawful rights and interests of women and children in their work reports delivered to the NPC.
On Monday, Vice-Premier Sun Chunlan called on Party committees and governments at all levels to crack down harshly on illegal activities such as the abduction and trafficking of women.
A crackdown on the trafficking of women and children has been a hot topic among national lawmakers and political advisers gathered in Beijing for the ongoing two sessions.
Some of them have called for harsher punishment of both buyers and sellers after the case of a trafficked woman who was seen in online video clips chained up in a rundown hut in Fengxian county, Jiangsu province, received wide public attention.
Huang Qi, a member of the National Committee of the Chinese People's Political Consultative Conference, told the CPPCC's website there is an urgent need to amend the Criminal Law to ensure the penalty for buying trafficked women is closer to that for trafficking them.
Under the law, people who abduct or traffic women or children usually face a prison sentence ranging from five to 10 years, as well as fines. It also defines some situations as "serious" or "extremely serious", which warrant possible life imprisonment or even a death sentence, including raping those who are trafficked and abducting three or more people.
But the maximum prison term for people buying trafficked women and children is only three years.
Yan Zhi is another NPC deputy who supports heavier punishment for buyers. He has submitted advice related to human trafficking to the NPC four times, Southern Metropolis Daily, a newspaper based in Guangdong province, reported.
Yan once suggested the country use more technology to rescue those trafficked, the report said.
NPC deputy Wang Lin told Red Star News, a media outlet in Sichuan province: "We need to review cases in the past 20 years (to check whether there are women or children suspected of being trafficked) and use technologies such as big data and artificial intelligence to solve the cases.
"It is difficult to fight human trafficking, because the cost of the crime is too low and neither sellers nor buyers show any fear of the law."
She also called for the country to set up a system that would require government agencies, including marriage registration and medical institutions, to report clues about suspected trafficking to police.
NPC deputy Zhang Baoyan, who in April 2007 initiated Baby Back Home, a website aimed at helping families find lost relatives, said that traffickers and buyers should be held liable for life. She told Southern Metropolis Daily that it is necessary to establish a long-term system for thoroughly inspecting women and children of unknown origin in each area.
The paper also quoted Jiang Shengnan, an NPC deputy and a researcher at Wenzhou University, as saying that the nation should make policies to support the work of rescuing trafficked women, including the resettlement of their households, the dissolution of their marriages and how to employ them.
"The rescued women must be taken far from the regions where they suffered pain and damage if we want to provide them with a new life," she said.