Deepened SOE reforms can revitalize Chinese economy
Updated: 2015-09-15
( China Daily )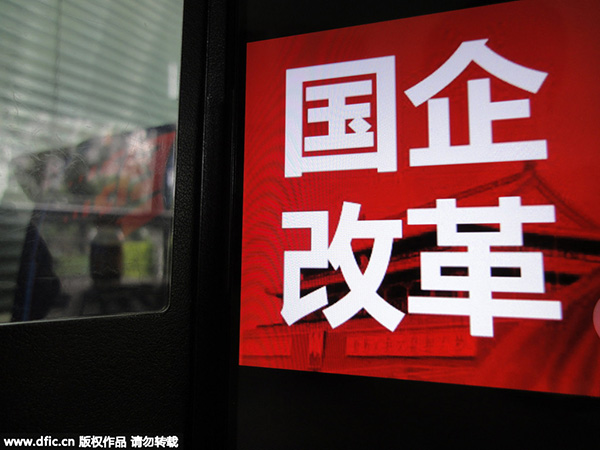 The government will improve the competence of SOEs and turn them into fully independent market entities. [Photo/IC]
The long-awaited blueprint for reforming and revitalizing the State sector has been released and it promises to give a huge boost to China's battle against the downward pressure on its economy. More importantly, the latest drive to deepen reform of State-owned enterprises may, in the long run, prove wrong those who believe that China's growth miracle has run its course.
On Sunday, guidelines were jointly issued by the Communist Party of China's Central Committee and the State Council to reorganize and restructure some SOEs so that they can be a long-term pillar of the Chinese economy.
By cultivating a number of key SOEs with considerable innovation capability and international competitiveness, Chinese policymakers aim to retool and revive the world's second-largest economy by giving entrepreneurs and market forces a bigger role.
Currently, the central government manages more than 100 companies under the State-owned Assets Supervision and Administration Commission, while local governments own and run many more companies.
These SOEs play a vital role in the national economy, and, in general, they enjoy a dominant position in the market with easier access to credit and more policy support.
However, many SOEs are deemed to be less efficient than private enterprises and not robust enough to help counter the economic slowdown.
The latest plan will introduce "mixed ownership" by bringing in private investment, and the government expects "decisive results" by 2020. If they succeed, such reforms will improve the efficiency of SOEs by forcing them to embrace market competition more aggressively and become financially self-supporting.
At a time when the Chinese economy is expanding at its slowest pace in more than two decades, it is a brave move by the Chinese authorities.
But if the success of the last round of such reforms in the late 1990s is any indication, it may be among the most effective of all the support measures that the Chinese government has adopted to grapple with the ongoing economic slowdown.
Then, by drastically cutting down the number of State-owned enterprises and raising their efficiency, the Chinese government managed to render the loss-making State sector into the backbone supporting much of the country's double-digit growth.
The economic challenges that China faces now are no less severe than those of a quarter of a century ago. But Chinese leaders are determined to make good their commitment to reform the SOEs and the overall national economy, so as make China's growth more sustainable.