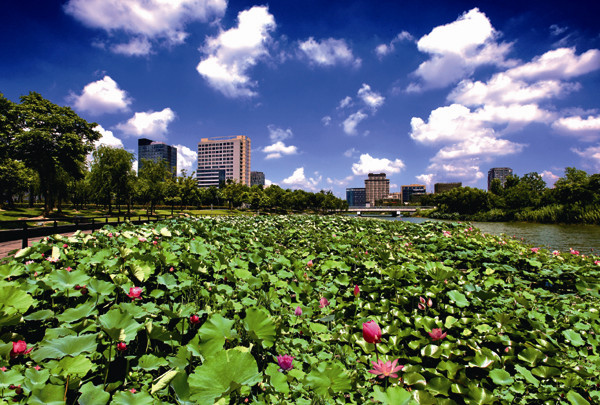 Jiading covers a 464-square-kilometer area to the northwest of Shanghai, adjoining Shanghai's Baoshan and Potuo districts on the east, the city of Kunshan, Jiangsu on the west, Shanghai's Minhang, Changning and Qingpu districts on the south, and Taicang, JiangsuI on the north. The Liuhe River borders it to the north and Wusong River to the south. It has flat terrain that is slightly higher in the northeastern part.
The Jiading, Wenzaobang, Lianqi and Loutang rivers, which flow into the Yangtze and Huangpu rivers, run west to east across the Baoshan district, while the Yantietang, Hengli, and Xinchapu rivers run south to north of Jiading into the Wusong and Liuhe. The total length of Jiading's rivers more than 1,800 km and it has a water surface ratio of 7.71 percent.
Jiading is the site of Shanghai International Automobile City and has convenient transportation, with the district government 30 km from downtown Shanghai, 75 km from Pudong International Airport, and about 25 km from Hongqiao Airport, the Shanghai Railway Station, and the Zhanghuabang International Container Dock. Passing through the district are the Shanghai-Nanjing Railway, Shanghai-Hangzhou Outer Ring Railway, and Beijing-Shanghai High-Speed Railway.
Jiading is making optimal use of its agriculture and is reducing the planting area for grain and commercial crops and the scale of animal husbandry and aquatic products. It is currently focusing on special agricultural products such as grapes, Hami melons, and towel gourds, and has 20 agricultural brands, such as the Malu grape. It has 6,000 hectares for ecological agriculture, such as Jiabao Ecological Forest and Jiangqiao Ecological Park and is developing agricultural tourism in places like the Jiading Modern Agricultural Park. It also has 3,176 hectares of protected fields, established online agricultural services, and 144 farmer cooperatives.
Jiading has a development strategy for science and education and talented personnel that depends on scientific and technological progress and innovation to build a new industrial system. Enterprises in those fields got approval for 309 national and municipal projects, in 2017. The National Technology Transfer Center Chinese Academy of Sciences (Shanghai) has been put into operation in 2017. The district owns 74 municipal pilot demonstration units of patent work.
Jiading is also a Ministry of Education reform pilot for rural education, a Prairie Fire Program demonstration site, and a quality-oriented education pilot. In 2017, it had 82 pre-school places, 43 primary schools, and 43 middle and high schools, attending to 37,804 pre-school children, 47,024 pupils, 23,193 middle school students, 6,877 high school students, 4,304 vocational school students, and 172 special school students.
Jiading has an abundance of historical and cultural relics, and its culture business and activities are thriving, with a culture center, museum, library, youth activity center, radio and TV station, and the Lu Yanshao Art Gallery. It has five historic sites with municipal protection and 54 with district protection and occasionally schedules cultural festivals, such as the Culture Festival, Chrysanthemum Festival, and Art Festival. It also promotes folk arts, such as bamboo carving, Xuhang straw-weaving, and Nnaxiang steamed buns. It also has traditional sports activities, such as martial arts and board games and has held international competitions, such as a marathon, heel-and-toe walking race, and judo, as well as national competitions in table-tennis, weiqi (go), Chinese chess, martial arts, and football. Its sport facilities include a chess room, gymnasiums, martial arts schools, swimming pools, and a sports center. Jiading host an annual FIA Formula One World Championship race at the Shanghai International Circuit, built in 2004. The district also held a boccia competition for the 2007 Special Olympics World Summer Games and entertained players and coaches from 60 countries and regions.
Jiading cooperates as a Primary Health Care Center and is a pilot China Health City, recognized by the World Health Orgnization. It is an advanced work area for primary health care, and has six level-IIhospitals, with 2,856 beds, and 14 private medical institutes, with 150 beds.
Jiading also has many scenic spots, with most of its and Nanxiang's historical sites recognized as "Historic Towns of China" by the Ministry of Housing and Urban-Rural Development and the State Administration of Cultural Heritage. The district's Fahu Tower and Zhouqiao Old Street, built during the Song Dynasty, were the central part of the city of Lianqi, the predecessor of Jiading town. The southern part of Jiading has the Confucius Temple, built in 1219, with splendid halls and corridors. On the east side of it is the Danghu Academy, Shanghai's only academy, built in the Qing Dynasty. Huilongtan Park is also a tourist attraction in the old town [separated by water from the Confucius Temple]. Qiuxiapu, a famous classical garden park, consists of private gardens belonging to the Gong, Shen, and Jin families during the Ming Dynasty and the town's Temple. And there are a pair of pavilion-style pagodas in Nanxiang, with a graceful appearance and a history of more than 1,000 years. Also situated in the town of Jiangqiao are the Huang Family Plantation (Garden), built in 1928 and famous for its rare trees. Jiading also has some places for recreation such as Shanghai Golf Club and the Oriental Paris Golf Country Club.
Shanghai Volkswagen Industrial Tourist Park, the Shanghai International Circuit, Shanghai Automobile Exhibition Center, and Shanghai Auto Museum all opened after 2003, in Jiading, as new Shanghai attractions. The China Imperial Exam Museum, Shanghai Auto Museum, and Shanghai Automobile Exhibition Center were completed in 2006. The Jiading Bamboo Carvings Museum opened to the public in 2007, and Waigang Guerrilla Museum, in 2008. Jiading's tourism has grown rapidly and it now has the Zhouqiao National AAAA Scenic Spot, Malu Grape Theme Park, and Huatingrenjia National AAA Scenic Spot, and has held the Shanghai Auto Culture Festival and various activities for the Shanghai Tourism Festival.