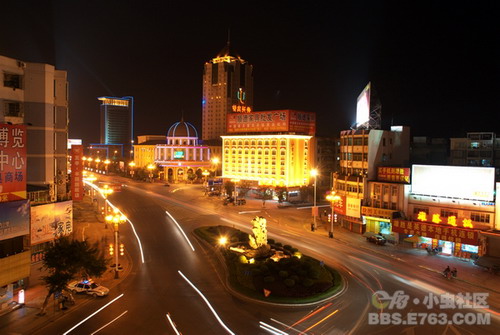 A corner of Yingde city
In the central north of Guangdong province lies Yingde, a city located to the northeast of Qingyuan city in the middle reaches of the Beijiang River; one of the three largest tributaries of the Pearl River.
A famous historical and cultural city in Guangdong province, Yingde enjoys a long history. In 206 BC—195 BC, Emperor Gaozhu of the Han Dynasty set up Zhenyang county (an area that includes today's Yingzhong and Yingdong of Yingde county) in Yingde. In the first year of Emperor Qingyuan's reign (1195) in the Southern Song Dynasty, Yingde was given the status of prefecture. In January 1994, Yingde county became Yingde city.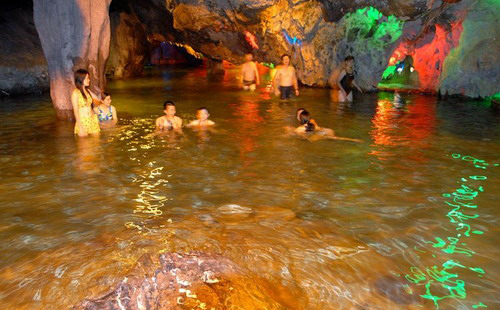 Karst cave hot spring in Yingde
Yingde lies in a basin at the southern tip of five mountains. Limestone is the dominant rock in this area. Chuandiding peak, standing to the north and bordering on Qujiang district is 1,586 meters above the sea level and is the highest peak in the city. The city is set on a slope running north to south, while the earth changes from clay in the east to stone in the west. Geologically the area mainly comprises two zones: the Yingde basin zone and southern hill and low mountain zone.
The city lies on the border of the southern subtropical zone and the central subtropical zone, and has a subtropical monsoon climate. The annual average air temperature is 21.1℃, the coldest month is January with an average temperature of 11.5℃, and the hottest month is July with average temperature of 28.9℃. The annual average frost-free period is 312 days, precipitation is 1837.2mm, evaporation is 1663.5mm and annual average sunshine time is 1631.7h. Despite the generally pleasant climate, the area is prone to some extreme weather such as: cold spells in late spring, high temperatures, fog, frost, thunderstorms, gales and hailstones.
Yingde is a county-level administrative division with the largest land area in Guangdong. It is 120km wide and 83km long and has an area of 5671 square kilometers (8.5065 million mu). By the end of 2007, it had 23 towns under its administration, along with a sub-district, 43 neighborhood committees and 256 village committees. The municipal government is located in Yingcheng Sub-district, and the registered population is around 1.0877 million, of which 215,800 are registered as urban population, accounting for 19.8% of the total registered population. The population within the territory is dominated by Han people, with a small number minority groups, including the Yao. In the city, most people speak Hakka, though there are differences in accents between those living in the eastern, central and western parts.
Lying 138km north of Guangzhou and 100km south of Shaoguan, the area has convenient water and land transport links. It has been an important gateway of Guangdong since ancient times. The Beijing-Zhuhai Expressway and No. 106 national highway run through the eastern part of Yingde. Jiulong, an important town to the southwest of Yingde lies 10km from the grade-1 Qinglian Highway (No. 107 national highway). The Beijiang River, Wengjiang River and Lianjiang River all converge in Yingde. From Yingde, 500-tonnage cargo ships can directly reach the Pearl River Delta, Hong Kong and Macao. A 90 km stretch of the Beijing-Guangzhou Railway also runs through Yingde.
The city has is rich in natural resources. Fast-flowing rivers crisscross the land. There are 16 rivers in total with catchment area of more than 100 square kilometers. The exploitable water resources are about 350,000kW. 37 minerals have been discovered in the region and are currently being explored. Minerals with large reserves include iron pyrite, iron ore, coal, marble and granite. The area of the land with forest is 4.08 million mu, forest coverage rate is 63.3% and forest stock is 12.80 million cubic meters. More than 2200 species of higher plants grow in the forest, including 19 species under national grade 1 or 2 protection, such as: cyathea tree fern, Tsoongiodendron Magnolia and Amentotaxus argotaenia conifer.
The Shimentai Provincial Natural Reserves is home to many rare animals, with more than 301 species of vertebrates, including 6 species under national grade-1 protection, including the Cabot's Tragopan pheasant, clouded leopard, panther, golden mink, the venomous pit viper (trimeresurus jerdonii) and the python. Yingde National Forest Park covers an area of 1.605 million mu. Shimentai Provincial Natural Reserve in Yingde covers an area of 1.234 million mu and is the largest nature reserve in Guangdong province.
Ying stone, also known as Yingde stone is a traditional specialty of Yingde and is mainly produced in the Yingshan Mountain 25km east of the downtown (Yingshan Mountain was part of Yingshi township for a period during the Qing Dynasty). The stone is known for being "thin, crinkled, seeped and permeable". The different shaped large stones can be used to form scenes, medium-size stones can be used in gardens and the small stones can form miniature gardens or be used as table top stones. In the Song Dynasty, the stones were often chosen to be used as tributes. In the Qing Dynasty, Ying stone was as famous as Taihu stone, Libi stone and Huangla stone, and was one of the top four garden stones in China. "Zhou Yun Feng", one of the three most famous stones in the south of the Yangtze River is made of Ying stone.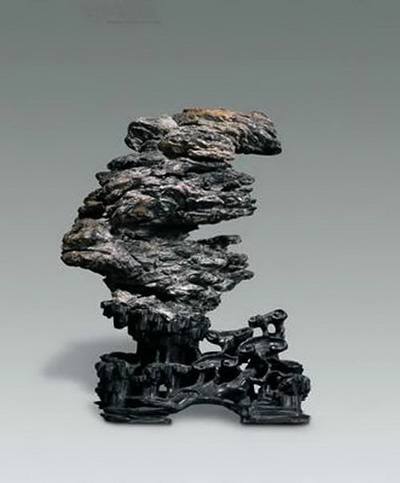 Yingde stone is a traditional specialty of Yingde. The different shaped large stones can be used to form scenes, medium-size stones can be used in gardens and the small stones can form miniature gardens or be used as table top stones.
Yingde has been a tea producing area since the Tang Dynasty. During the early Ming Dynasty, Yingde tea was chosen as a tribute to be given to others. Yingde black tea, Yunnan Dianhong and Anhui Qihong are jointly known as the top three black teas in China and are sold in different 70 countries and regions. In the 1990s, new highly fragrant teas were successfully cultivated in the area and new brands such as Yanbeiyan Wujia and Gaoshan Baxian tea were set up. Yingde is one of a few tea producing areas in China which processes six types of teas (black tea, green team, Oolong, white tea, yellow tea and dark tea) and reprocesses teas (scented tea, Litchi red tea, tea polyphenol and theine). The area also produces and prepares Kuding tea related products (Kuding tea drinks and lozenges). It ranks top in Guangdong in terms of area, annual yield, tea type and quality and is one of the most important tea production and large-leaf broken black tea export bases in China.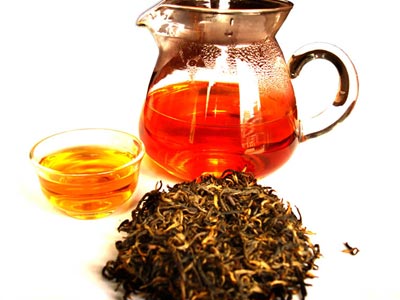 Yingde Black Tea
In addition, bamboo roots, sugar orange, mulberries, grain, oil plants, sugar cane, timber, vegetables and fresh water fish are also highly important within the province.
The city is rich in tourist attractions. It has 51 historical and cultural sites under government protection, including six sites under the protection of provincial government. Three popular characteristic tourist routes "Beijiang landscape, Yingxi peak forest, and natural ecology" and five tourism brands "karst cave, forest peaks, hot springs, mountains and waters, folk customs" have been established. The area's main tourist attractions include: Baojing Palace, Yingxi Peak Forest, Xianqiao Underground River, Feilai Gorge Rafting, Yingxi Peak Forest Underground River Rafting, Tianmen Ravine, Caihua Valley, Tongtian Rock, Tea Garden, Shijing River, Tea World and Nanshan Mountain.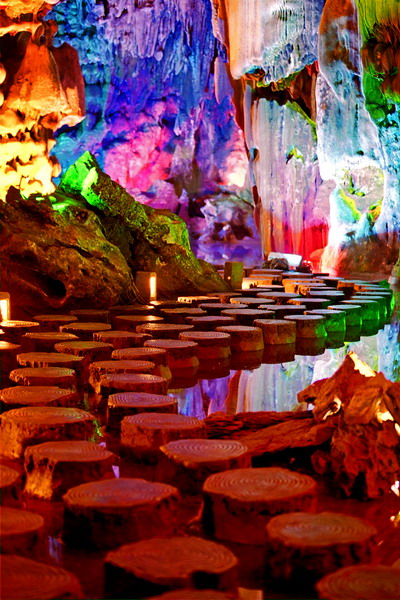 Baojing Palace
Yingde has been awarded many titles over the years including the title of "Home of Ying Stone in China", "Home of Black Tea in China", "Home of Sugar Orange in China", "Home of Mulberry in China", "Home of Dendrocalamus Latiflorus Munro Root (an evergreen species) in China", "Home of Women's Football in China" and "Home of Chewing Cane in China". In 2007, it was again named "Home of Chewing Cane in China", Lixi Town was named "Town of Sugar Orange in China", the Dendrocalamus latiflorus Munro leaf in Xiniu Town was issued with "Chinese National Geographic Protection", while "Yingjin" cement was rated as "Product Exempted from Inspection in China" and the "Yingzhou" trademark was named as "Well-known Trademark in Guangdong".