Shougang Group, China's eighth largest steel maker, will expand its annual production capacity to 30 million tons by 2012 with new projects in Caofeidian and consolidation in other regions.
Shougang, which means "Capital Steel", will start production at its new steel mill at the Bohai Bay island land reclamation economic development site on the northern Chinese coastline by the end of 2010.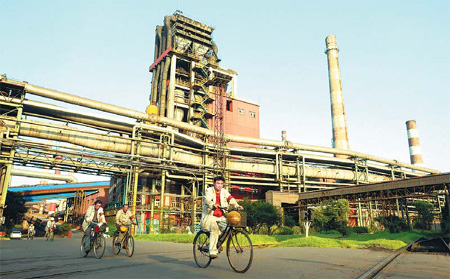 Shougang's Caofeidian factory will start production after its Beijing plant shuts down next year.
It will have an initial capacity of 9.7 million tons a year. Production will start after Shougang's Beijing factory shuts down next year, Chairman Zhu Jimin said at Shougang's 90th anniversary ceremony. The company is the parent of Shenzhen-listed Shougang Iron and Steel.
Zhu said the Caofeidian factory was still undergoing trials.
The project is part of Shougang's efforts to shift its production facilities away from Beijing in an effort to reduce pollution in the capital and cut costs. The new mill, which will mainly produce flat steel products such as cold-rolled coil used in auto-making and the home appliance sectors, is near iron ore ports.
Meanwhile, the Beijing factory site will be used to develop a wide range of different industries including high-end material, high-end machinery, real estate development, auto spares production, tourism, and culture creativity. This will generate an additional 100 billion yuan ($14.64 billion) a year, he said.
Shougang aims to further boost its production capacity by launching new projects and acquiring smaller mills in other provinces and autonomous regions, including Guizhou, Shanxi, Xinjiang and Hebei to reach the desired annual capacity of 30 million tons by 2012.
Shougang produced 12 million tons of steel products last year.
Since 2007, Shougang has been taking long steel products out of new mills because their value-added status is low.
Analysts said long steel products were more profitable than other high value goods such as flat steel during the sluggish market in the first half of this year.
Of the 30 million tons capacity, long products will account for 10 million tons, mainly from third-tier cities, Zhu said. He added special steels would be produced in cities that have strong equipment manufacturing capacity.
Shougang's latest acquisition of Shanxi-based Changzhi Iron & Steel is aimed at building the mill into a long steel products base.
Shougang paid 500 million yuan for a 90 percent stake in Changzhi Iron & Steel, which has an annual production capacity of 3 million tons of crude steel, and plans to invest 19 billion yuan over the next three years to boost its annual steel production capacity to 6 million tons.
"Long products demand will continue to remain strong thanks to the booming property sector," said Xu Xiangchun, a senior steel analyst at Mysteel. "Shougang's mixed products line sounds economically reasonable in terms of the market demand."
State-owned steel companies mostly produced high value-added steel products such as plates, which were usually not in high demand during an economic downturn, he said.
Shougang's merger and acquisition strategy is also in line with the government's guidance on industry consolidation, with large steel mills leading the exercise.
The restructured steel industry will be focused on China's north to south coastline, consisting of the Angang Liaoning base, the Shougang Hebei Caofeidian base, the Baosteel Zhanjiang base and Wugang bases.
KPMG's latest report illustrates that because of increasing pressure over environmental protection, and awareness of the need to control logistical costs, China will follow Japan's pattern, gradually moving competitive production capacity to the coastal areas to give enterprises an edge over their inland counterparts in terms of the costs of environmental protection, land and transportation.