National media tour begins in Xinyu
Updated: 2016-12-23
Over 50 journalists from national media organizations gathered at a local exhibition center in Xinyu, for an event highlighting industry, tourism, and quality of life in the city, on Dec 22.
With the aim of publicizing Xinyu's development via the media, the event invited journalists to Xinyu to focus closely on urban construction, industrial progression, business innovation, and the promotion of rural areas.
The event aimed to showcase the overall economic development of the area, alongside local scenery.
Dong Xiaojian, mayor of Xinyu city and vice secretary of Xinyu municipal Party committee; Guo Ligen, head of Xinyu publicity department; Wang Shaojun, executive editor of Jiangxi Daily; and Fu Shuizhu, general secretary of Xinyu municipal government, were all present at the event.
During the launch ceremony, Guo Ligen presided over the press conference, and Dong Xiaojian made a speech introducing the current situation of Xinyu city. And Wang Shaojun greeted attending journalists.
As a media representative, Luo Yao from People's Daily Online expressed her view on the role of news journalists in publicizing the economic and social progress Xinyu has achieved over the past few years.
Located in the middle of Jiangxi province, Xinyu is known for its basic industries, with a 51.3 percent industrialization rate and an urbanization rate of 56.6 percent. In addition, Xinyu has made significant progress in new energy, forest density, property rights protection, entrepreneurship and innovation, and the cultivation of sweet oranges.
The 2016 National Media Tour was jointly sponsored by Xinyu municipal Party committee, Xinyu municipal people's government, Jiangxi Daily, Xinyu publicity department, and Jinagxi News.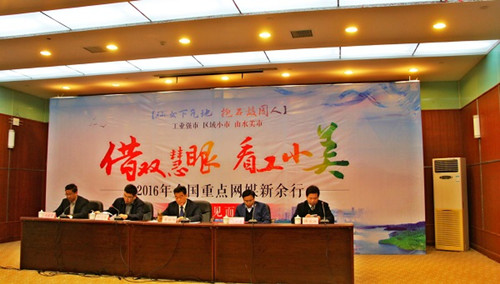 Officials from Xinyu city attend the launch ceremony of the 2016 National Media Tour in Xinyu held at a local exhibition center, in Xinyu, Jiangxi province, on Dec 22. [Photo/chinadaily.com.cn]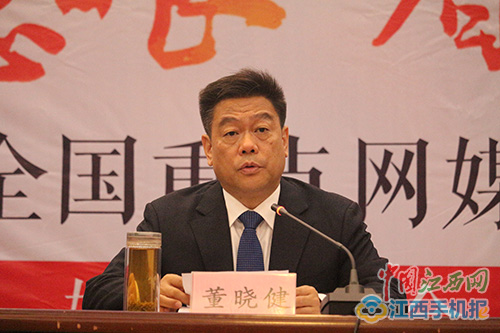 Dong Xiaojian, mayor of Xinyu city and vice secretary of Xinyu municipal Party committee, speaks at the launch ceremony of the 2016 National Media Tour in Xinyu, Jiangxi province, on Dec 22. [Photo/jxnews.com.cn]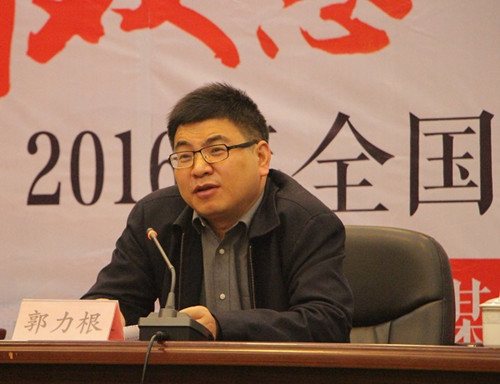 Guo Ligen, head of Xinyu publicity department, presides over the launch ceremony of the 2016 National Media Tour in Xinyu held at a local exhibition center, in Xinyu, Jiangxi province, on Dec 22. [Photo/chinadaily.com.cn]
Wang Shaojun, executive editor of Jiangxi Daily, hands a flag to a journalist during the launch ceremony of the 2016 National Media Tour in Xinyu, Jiangxi province, on Dec 22. [Photo/jxnews.com.cn]