Yichun
( travelchinaguide.com, Wikipedia, chinadaily.com.cn )
Updated: 2011-08-24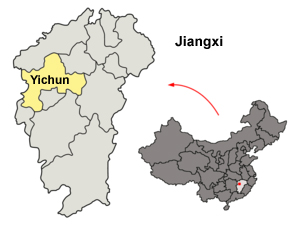 Location of Yichun within Jiangxi
Location: Lying in the northwest of Jiangxi province, Yichun city borders Jiujiang to the north in the neighborhood of the capital city of Jiangxi, Nanchang to the east and is bounded on the west by Hunan province.
History: The administrative history of this area originated from the establishment of Yichun county in the Han Dynasty (206 BC-AD 220). During the Sui Dynasty (581-618) Yichun was elevated to be a prefecture, called Yuanzhou. At a county-level city, Yichun was founded in 1979 and promoted to a regional city in 2000. Physical Features: More than seventy-five percent of Yichun's territory is hilly and mountainous which generally declines from the northwest to the southeast. The 1,794 meters (5,876 feet) high Jiulao Ling in Jing'an county is the zenith of the whole city.
Climate: Yichun enjoys a subtropical monsoon climate with four distinct seasons. Its annual average temperature maintains around 16.2-17.7 ℃ (61.2-63.9 ℉). Massive bursts of precipitation become more common during May and June.
Demographics: There are 5,304,000 people living in Yichun. Most people are Han Chinese. The city covers an area of 18,670 square kilometers ((7,209 square miles).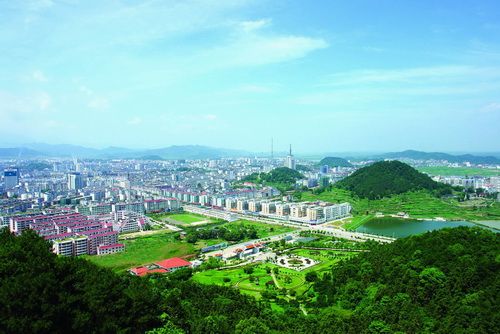 Yichun city
When to Go: The average temperature in the coldest January and in the hottest July fall respectively around 5 and 28 ℃ (41 and 82.4 ℃). Climatically, can be visited at any time the visitors like but especially in spring and autumn.
Special Local Products: preserved egg, bamboo carvings, linen cloth, bodiless lacquer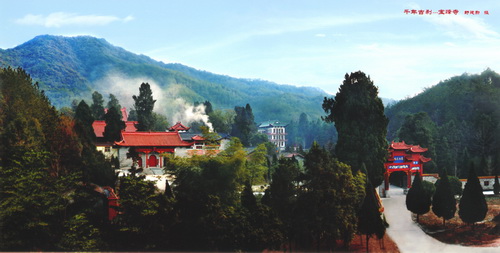 Baofeng Temple
Attractions: Mingyue (Moon) Mountain: Mingyue Mountain gained its name from its shape like a bright crescent moon. The scenic area consists of over ten peaks which are all more than a thousand meters (about 3,281feet) above sea level. It is also a national forest park comprising of six tourist zones. Among them, the Yangshan Scenic Spot is an important birthplace of Buddhism in South China, and the Wentang Town, at the foot of the Mingyue Mountain, is famous for hot springs teeming with selenium.
Other Scenic Spots: Sanzhaolun National Forest Park, Zhuojiang Karst Cave, Wucheng Ruins
Fuxi Hot Spring
Travel Tips:
Yichun is no more than 200 kilometers (124 miles) from Nanchang Changbei International Airport and Changsha Huanghua International Airport. Also, there is large railway station at Zhejiang-Jiangxi operating trains to all over the country. From Yichun, visitors can take trains directly to Beijing, Shanghai, Guangzhou, Chongqing, Hangzhou, Fuzhou, Kunming, Changsha, Nanjing, Nanchang and many other big cities in China.
Yichun Central Bus Station stands in Mingyue Bei Lu of Yuanzhou district. The bus station in Ping'an Lu is useful for busses to Mingyue Mountain and Wentang Town.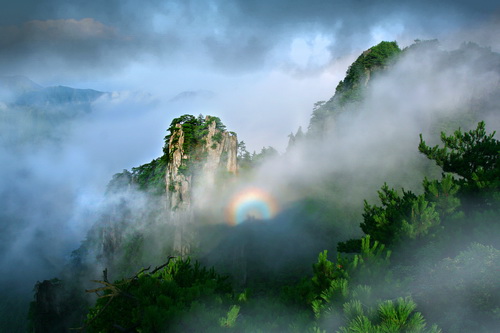 Mingyue Mountain