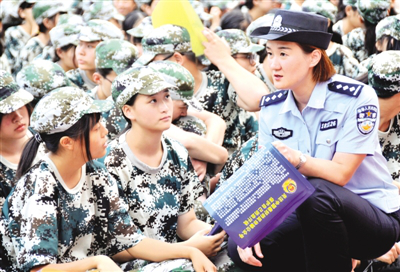 The community policemen from the Meixi Police Station and the anti-fraud center of Nanyang Municipal Public Security Bureau teach new students at the No. 2 Vocational and Technical School in Nanyang how to avoid fraud. [Photo by Zhou Meng at Nanyang Daily]
The Meixi Police Station of the Nanyang Municipal Public Security Bureau, in Nanyang city, organized activities on security education for students in colleges.
The security education aims to arouse new college students' safety awareness and prevent students from getting involved with telecommunication fraud, fake loans and bullying.
The police will go deep into the colleges and universities in the city to carry out legal safety education.