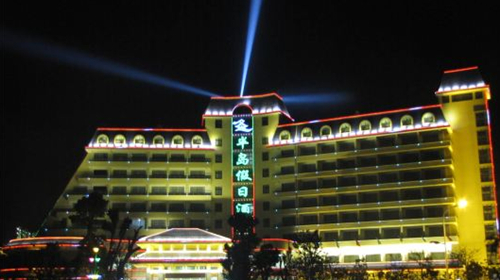 [Photo/Fusen Peninsula Hotel]
Fusen Peninsula Hotel is a four-star hotel built to international standards. With a floorage of 26,800 square meters, it contains 357 guestrooms, including standard rooms, business suites, executive suites and presidential suites.
Positioned as a high-end business hotel, it offers seven multifunctional conference halls of various sizes, with the largest capable of accommodating 300 people. The hotel's three on-site restaurants can seat a total of 500 guests simutaneously.
Recreational facilities include indoor and outdoor swimming pools, a gymnasium, karaoke, ballroom, teahouse, bar as well as rooms for mahjong, chess and poker. Foot massages and saunas are also available.
The hotel is 2.3 kilometers away from the Danjiang Grand View Garden and will offer free scenic spot tickets to each guest.
Address: near Shigang exit of the Neixiang-Dengzhou Expressway, Xichuan county
Tel: 0377-62005555
Check-in: after 2:00 pm Check-out: before 12:00 pm
Note: Guests aged under 18 must be accompanied by a parent or legal guardian.